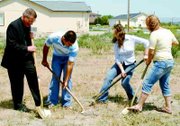 MABTON - A small crowd gathered in Mabton this past Saturday for an official groundbreaking and blessing ceremony for phase two of the New Life Homes project, made possible by the Diocese of Yakima Housing Services.
"We're here to help families realize a dream here in Mabton," said Director Mario Villanueva.
Three families are ready to begin putting sweat equity into their home. Said Dora Cerda, who will soon be a first time homeowner, "I'm really excited."
Mabton Mayor Velva Herrera praised the Diocese for making Mabton a better place to live through housing possibilities.
Buddy Cluck of Yakima Federal Savings & Loan said that he's always excited to attend groundbreaking ceremonies and blessings, but even more excited to see the dedication of the families who will own the homes.
As part of the program, families must be able to dedicate 250 sweat equity hours, as well as commit to sharing work with other families building at the same time.
Cerda, Dana Ortiz and Leonardo Gonzalez and Maria Gonzalez are the three families that will work together towards the construction of their homes.
Following the blessing provided by Carlos A. Sevilla, S.J., Bishop of Yakima, and the golden shovel groundbreaking, the group gathered in the New Life Villa Community Center for a reception.
&nbsp