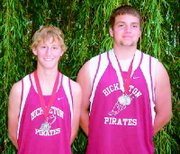 CHENEY - Bickleton High School's Eric Hess and Patrick Maeder returned home this past Saturday from Eastern Washington University's Woodward Field with a pair of runner-up finishes from the B-1 State track and field championships.
Hess earned his second place finish at State in the shotput. Maeder was the runner-up in the pole vault.
In capturing second place honors in the shot, Hess was leading all athletes through the next to last throw. That's when North River's Matt McLaughlin uncorked a throw of 44 feet, six and one-quarter inches, nearly a foot beyond the 43-foot, six and one-half inch toss of Hess.
"Eric's last attempt fell short of his best and he had to settle for second place," said Bickleton Coach Darrell Lang.
"But in retrospect, he did not go to State last year in the shot," Lang added, noting that Hess is only a junior and now has experience at State in the shot that should benefit him his senior season.
Hess also competed in the discus at State, coming away with third place honors. In the preliminaries last Friday, he led all discus throwers. "But he was unable to better his mark and Scott Laes from Clallam Bay, who threw a personal best of 129-2, won the event," said Lang.
"Eric had to settle for third as another thrower passed him in the finals, also," said Lang, explaining that Hess's top mark at State was a throw of 124-8.
"Eric did improve on his fourth place finish from last year," said Lang.
"Eric had high expectations coming into the State meet this year, as he had the two best marks from District in both of his events," Lang continued. "The effort was there in both of his events, but there are days when you just are not up to your best, and Eric had a couple of those days in a row.
"I think this will really fire him up for his senior year and commit him to not only winning those events next year, but extending the (school) records in each," Lang said.
Maeder last Friday was making his second consecutive appearance at State in the pole vault. He jumped 9-6 at the 2006 State meet and did not place.
"This year with the new B-1 classification Patrick came in with the best qualifying jump, and was jumping against only three other competitors, all from Odessa," said Lang, explaining that some B-1 districts didn't feature the event.
Maeder opened this year's State pole vault competition by clearing the bar at 9-0. He stayed clean up until the bar was set at 11-0.
"His main competitor, Aaron Wilson, had a miss at 8-0, but after that was clean until 11-0, also," said Lang.
Both Maeder and Wilson missed their first two attempts at 11-0, which kept the Bickleton jumper in the lead. On his final attempt, however, Wilson cleared the bar cleanly to win the event.
Officially, Maeder was second with his successful jump of 10-6.
Lang said Maeder, despite not winning top honors, was pretty happy to take second, "...since just a week ago it looked like he would not qualify for the State meet."
Team-wise, Maeder and Hess tallied 22 points for Bickleton, giving the Pirates a 13th place finish at this year's State meet.