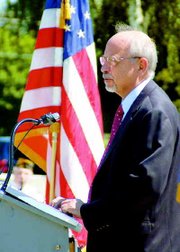 Because sacrifice without remembrance is meaningless, a huge crowd gathered at Lower Valley Memorial Gardens Cemetery yesterday (Monday) to recognize soldiers who died serving their country.
Fittingly enough, the Memorial Day ceremony took place at the War Veterans Memorial and Congressman Doc Hastings was the featured guest speaker.
"All across our nation Americans are gathering, as we are here today, to pay tribute to those who fought and died for democracy and freedom," Hastings said. "These soldiers made the ultimate sacrifice to protect the freedoms that we all too often take for granted."
Hastings said the fallen soldiers "deserve our utmost respect and deepest gratitude, as do the countless others who have bravely served our nation on the battlefield."
Hastings also briefly discussed the war on terror, which he described as "a war we did not seek." He added, "So once again, our armed forces are deployed overseas to defend our freedoms."
During the service, the names of each Sunnyside soldier killed in action going back to World War I were read, as well as the names of veterans from Sunnyside that have died during the past year.
Toward the end of the ceremony, white pigeons representing each veteran that died in the last year were released.
Each local veterans organization laid a wreath at the memorial to honor fallen soldiers.
The Sunnyside VFW Post 3482 Honor Guard fired off a 21-gun salute, followed by the playing of Taps to end the service.