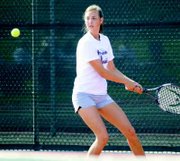 YAKIMA - Grandview High School's three 2A State tourney competitors came home appreciating their accomplishments for the 2007 tennis season.
Miranda Shreeve advanced the furthest for Grandview, making it to the girls singles consolation quarterfinals against Centralia's Abby Anderson.
Shreeve opened State against Elise Rooney of Clarkston. The Grandview athlete fell to Rooney in the first round 6-1, 6-3.
Grandview High School Tennis Coach Jaime Morales said, "She (Shreeve) played really well in her first match, she just faced a tough opponent.
In the consolation round, Shreeve handed Quynh Nguyen of Washington a 6-1, 6-1 defeat, making it to the consolation quarterfinals, where she fell 6-1, 6-2 to Anderson.
Morales said of Shreeve's match, "Fatigue really set in during that third match. She played hard, though and didn't give up."
He added that Shreeve enjoyed the trip to State and was happy to have reached her goal of making it to the competition.
"I'm proud of Miranda's accomplishments this year," Morales commented.
He said the Grandview doubles team of Christine Penwell and Sydney Mottice had a tough draw at State when they opened against Betsy Ann Penman and Sydney Davis of Centralia.
Penwell and Mottice were defeated 6-1, 6-1 in the first round of State competition, moving them into the loser's bracket.
Their second match-up was against Anacortes' doubles team of Sarah Koss and Lelie Baca. The Grandview girls fought hard in this match, but fell 6-3, 7-6 (7-1).
"There were three returning State teams from 3A last year in the quarter. They (Penwell and Mottice) played with a lot of fight and never gave up. I am very proud of what they were able to accomplish this year," said Morales. "They now have a taste of the State tourney and have set a goal to be back next year to win some matches."
Shreeve will graduate this year, but the team of Penwell and Mottice will be back in the 2008 season for the Greyhounds.
Rod Smith/Daily Sun News
Sydney Mottice of Grandview hits a backhand shot in the girls doubles first round of State competition in Yakima. She and her partner, Christine Penwell, lost the match to a pair from Centralia.
Rod Smith/Daily Sun News
Grandview High School singles player Miranda Shreeve hits a forehand shot during last Friday's State tennis competition in Yakima in her first round match against Elise Rooney of Clarkston. Shreeve advanced as far as the consolation quarterfinals.