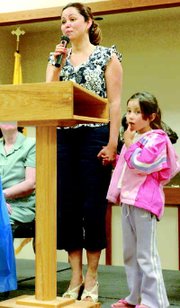 YAKIMA - The Catholic Diocese of Yakima held a forum Tuesday night to give its position on the moral and social issues surrounding proposed legislation in the U.S. Senate about immigration reform.
Experts were on hand to discuss how current immigration policies impact today's society and also offered were personal stories from persons who have experienced life as an immigrant.
Sister Sharon Park, executive director of the Washington State Catholic Conference, spoke about the current immigration bill before the senate.
She said the bill in its current form would allow for the existing back log of visa applications to be processed first. Those illegal immigrants already in the United States would have to wait eight years before they would be eligible to apply for permanent residency, she said.
During this eight-year period, a "Z" visa would be granted to them if they could demonstrate an effort to learn English, pay fines totaling $5,000, pass a criminal background check and show proof of presence in the United States since January 2007.
Immigrants under age 30, who were brought into the U.S. as minors, would be eligible for a green card after three years.
The proposed bill also allows a legal pathway for immigrants to come to the U.S. and live and work, said Park.
The guest worker visa (Y visa) would be limited to 200,000 people per year. The two-year visas could be renewed three times for single workers and the worker would have to leave the country for a full year between renewals. Two-year visas for workers bringing their families to the U.S. would have to show proof of medical insurance for their family members and earn 150 percent above the poverty level for their family size.
Park told the audience there is no pathway to become a citizen in the guest worker program.
"We will see the face of this country change," she said if the bill passes. "If it doesn't, things will stay the same."
Bishop Carlos Sevilla of Yakima addressed the crowd and gave the church's point of view on the immigration issue.
He said several bishops along the border states with Mexico have been working on a joint message since 2003. He said the bishops believe it is a moral issue.
Quoting scriptures, Sevilla said Jesus claimed what anyone does against his brothers, it is done against himself as well.
"Our job is to create a world of justice and peace," he said. "That is our obligation. We do not encourage illegal immigration but once they are here we have a responsibility to them."
Sevilla said the conclusion of the bishops' statement is sovereign nations have the right to control their borders but persons have the right to migrate to support themselves and their families. He also added refugees and asylum seekers should be afforded protection, human rights and human dignity.
Mike Gempler, executive director of the Washington State Grower's League, spoke about the effect immigration has on the economy.
Gempler said there are 2.5 million people working as farm laborers and according to the Department of Homeland Security, 70 percent of them have crossed into the United States illegally. He added there are 100,000 immigrants in Washington state and the west coast employs 40 percent of all illegal immigrants.
"It's a big stake for us," Gempler said of the newly proposed legislation.
He told the audience the U.S. has more jobs than there are people here who can legally work them.
"We benefit from the people here legally and illegally," he claimed.
He asked the question whether or not Americans could do the job of farm laborers. Could the U.S. compete if this happened?
Gempler said it would cost a high price to entice Americans to do these types of jobs and he didn't think it was a price the farmers could afford.
According to Gempler, an average hourly wage for a cherry picker is $13 and the average wage of a farm laborer is $10.
He said he was involved in an experiment in 2006 where the farming industry tried to recruit Americans to work on the farm. He said thousands of dollars were spent on advertising for apple pickers with 1,700 jobs offered.
"We had 40 Americans turn out state wide," he claimed.
"Speaking from my industry we need them," he said of illegal workers. "Especially if we're being pushed into a transition to guest worker programs."
Anthony Ginatta, a policy advisor in Gov. Gregoire's cabinet, said there are numbers that support both sides of the issue.
"If you are against immigration," he said, "a Harvard study claims from 1980 to 2000 the immigrant workers have drove down American wages by 4 percent."
He said if a person is on the fence, "a study by the Century Foundation claimed the majority of American workers have been unaffected by immigration."
For the pro-immigration camp, a UCLA study claims immigrants have contributed $150 billion to our GNP and another statistic shows immigrants pay $80,000 more in taxes than they receive in benefits.
Ginatta said the numbers can support any position but Gov. Gregoire has four things on her agenda: secure the borders, create a temporary worker program, allow immigrants to earn their legalization and deal with the root causes of immigration by creating jobs in Mexico.
If a decision on supporting the current proposed bill was made today, the church said they would neither support it or oppose the bill, saying more amendments need to be made to the bill that are more favorable to the immigrants. Soren Rottman, an immigration lawyer, said their position would be to not support it until amendments are made.
Ginatta said the Governor doesn't have a position on the bill but if it was up to the bill or to do nothing, the Governor would lean towards supporting it. Gempler said his group would support the bill.
Not everyone was convinced by the presentation. Ed Patton of Yakima said he thought it was the Catholic Church's responsibility to push for regime change in Mexico because of what the current administration allows. He also said the Catholic Church should hold some responsibility to the large number of immigrants because of the church's policy on birth control.
Bob West told the audience he believes the long term cost to Americans from illegal immigration is $2.5 trillion.
Sister Mary Rita Rohde of Sunnyside asked what would happen if all illegal immigrants were rounded up and shipped out.
Gempler said there would be a lot of economic damage and one-half of all the crops and milk in the Lower Valley would not go to market.
Some audience members pointed out to Gempler that the farm industry is not where the majority of illegal workers go. He agreed, saying there are more illegal workers in the construction and hospitality industries.