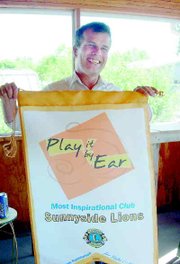 WENATCHEE - At the Lions Multiple District 19 annual convention held recently in Wenatchee, the Sunnyside club was awarded the "Most Inspirational" banner from the Northwest Lions Foundation for Sight and Hearing for the golf tournament staged by the Sunnyside club last year.
Part of the "Play it by Ear" campaign, the Sunnyside tourney is intended to increase awareness about prevention and treatment of hearing loss.
The Sunnyside Lions Club's second annual "Play it by Ear" golf tournament will be held Sept. 15 this year at the Cherry Hill Golf Course in Granger.
The golf tournament will be a four-person scramble, which will include 18 holes of golf, lunch and prizes.
Entry fee is $40 per person and entry forms are available at Cherry Hill Golf Course. For more information contact Melba Fujiura at 830-1068.