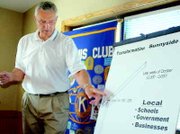 A new group known as Transformation Sunnyside aims to transform the city through involving local government, schools and the business community.
Leroy Werkhoven presented Transformation Sunnyside's efforts to the Sunnyside Kiwanis Club Wednesday morning at the Sunny Spot Restaurant.
Transformation means change, he told club members, and Sunnyside is in need of change.
"We recognize that as people we have the ability to make things happen," he said.
But willpower alone won't get it done.
"Without God's guidance and help that transformation cannot take place," Werkhoven noted.
Though Transformation Sunnyside is a faith-based group, Werkhoven was quick to add that it is a community effort led by local businesses, not a movement of ministers or churches.
"The businesses are where we make a living that allow us to live here," he said.
At the same time, Werkhoven said the group wants to work with churches and church members to help relay the transformation message.
"We want to make sure we stay connected with churches," he noted.
The group's first meeting on April 25 drew 40 people and the second a month later drew 80.
Now Transformation Sunnyside wants to grow those numbers even more to make a difference through prayer and cooperation.
The group's next meeting is set for 7 to 7:40 a.m. on Thursday, June 14, at the Sunnyside High School auditorium. The goal is to have a crowd of at least 150 people fill the lower portion of the auditorium.
But they don't plan to stop there.
During the last week of October 2007, Transformation Sunnyside is planning for an audience of 2,000 to 3,000 people at the Sunnyside High School gym from an area stretching from Wapato to Prosser.
Featured at the October meeting will be national speaker Ed Silvoso, whose DVD Transformation in the Marketplace helped provide the inspiration for Transformation Sunnyside.
Werkhoven said the presence of a large group of people will provide an encouragement for individuals to act together in changing the community.
He added, "No one person alone can make a big change, but collectively we can do it."
Regarding a question raised about Sunnyside's gang issue, Werkhoven said, "If we just sit and complain about it nothing will change. We collectively have to figure out a way to heal this problem."
Transformation Sunnyside's goal is to pray and help the community's problems by transforming one person at a time. Werkhoven noted, "Our goal is to change the hearts of people."