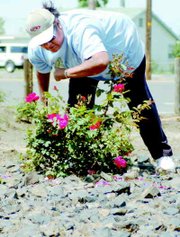 What started as a trip to Richland to play Harrington's Trophies team was interrupted last night when the team of 14- and 15-year-olds from Sunnyside found out the Richland team had traveled to Sunnyside due to a scheduling change.
Sun Valley rushed back to Sunnyside where they met and were picked apart by the Richland team, 17-6, in five innings.
Due to the confusion, Sun Valley Coach Tom Schmick said statistics for the game were sketchy at best.
What is known is Sun Valley's Lane Pickel pitched the first inning, allowing one run. Justin Reyes came in to pitch the second inning, where the young hurler ran in to some trouble and 12 runs were scored. Jaime Sarmiento came in to pitch the remaining three innings, holding the Richland team scoreless in the third and fourth innings before allowing Harrington's Trophies to score four runs in the fifth.
"The second inning took a while to play," Schmick said. "There were too many walks and singles given up."
Sun Valley was tied at one run apiece with the Richland team before Harrington's Trophies' huge second inning. Sun Valley picked up five runs in the bottom of the third to cut the lead in half, 12-6, but couldn't pick up any more runs after that.
Andre Sarmiento went 1-for-3 with a double for the Sunnyside team. His teammate, Pickel, was 2-for-3 with a double and an RBI, and Frankie Ochoa was 1-for-3 with an RBI.
The loss puts Sun Valley's season record at 0-3 with a game against Richland's Milestones today (Wednesday) at 5:30 p.m. in Richland.