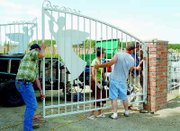 MABTON - There's a special group of volunteers that's been working hard since 2001 toward one goal: beautifying the Mabton cemetery.
Marshall and Lorna Dawson, Hank and Blanche Tobin and Pete and Minnie Alvarado have dedicated the past six years to improving the aesthetics of the small town cemetery.
The families donate time and labor, while accepting donations from community members and businesses.
In a word, the transformation has been amazing.
According to Mrs. Alvarado, the group formed after the loss of the Alvarados' son, Andy, to a car accident in 2000, followed by the Dawsons' loss of their son, Travis, in 2001 to cancer.
Discouraged with the look of the cemetery, Alvarado and Dawson began to talk.
Recalls Alvarado, "I met Marshall at the cemetery one day and said, 'Marshall, this is bad.' He said, 'But you and I are going to do it. We can clean this place up.'"
Shortly thereafter, she said, the Tobins jumped on board.
The volunteers, by this time known as the Mabton Cemetery Committee, began conducting fundraisers and even enlisted the help of students from the school district in cleaning up older headstones. Alvarado said that headstones initially believed to be black, were actually much lighter once they'd been cleaned up.
Through their fundraising efforts, volunteer labor and sometimes even digging into their own pockets, they've added brick pillars, an attractive sign, fencing, angel gates, widened the road, installed an underground sprinkler system and added arborvitae.
In the not-too-distant past, Alvarado says, the fence consisted of chicken wire and the cemetery was watered by a manual line system.
And there's more work they'd like to do.
"I want a big water fountain, I want a statue of Jesus, I want, I want, I want," says Minnie with a laugh.
Last year, she knew she wanted the gates installed within 12 months. For this project, she enlisted the help of her niece's husband, Michael Mathewson.
Mathewson, who lives in Eugene, Ore., donated labor and part of the materials in building the fencing and gates. The angel gates were created from a draft by Minnie's niece.
"The gates are beautiful, which made us feel real good," she said.
Marshall said that the group's not done, not by a long shot. "Oh no, we've still got more going on here."
Future projects include once again requesting help from students to clean headstones, adding another angel gate, adding arborvitae in the back of the cemetery, and, hopefully, making Minnie's beautification dreams of a fountain and statue a reality.
"Slowly, but surely, we can get it done," she says.
But the fundraising and volunteer momentum needs to continue. Not only that, but Alvarado would like to see the enthusiasm spread. "I wish more people in the community would get encouraged, even if it's just to volunteer or (serve on) the committee. I'd like to see it grow."
"They've done a lot," says Mabton Mayor Velva Herrera. "I mean...wow. Just being out there, it just feels comfortable, a place to relax and be one on one with (your loved ones that have passed away)."
Herrera had been there this past weekend with City Councilwoman Vera Zavala planting 50 to 60 rose bushes donated by Northwest Horticulture.
It was then that she'd seen that the volunteers had added another angel gate. When she saw it, she said, "I just wanted to touch it. It's beautiful."
Of the improvements made, Dawson said, "We've been pushing to get this done."
Donations to further beautification efforts at the Mabton Cemetery can be made at American West Bank in Sunnyside or Mabton, or by mailing donations to the Committee at P.O. Box 64, Mabton, Wash., 98935.