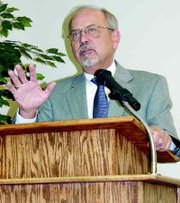 GRANDVIEW - Congressman Doc Hastings was the featured guest speaker at the Grandview Rotary Club meeting yesterday (Wednesday), where he hit on politically significant topics.
Hastings first addressed the "profound change in government" following the last election, when there was a change in leadership in both legislative houses.
Hastings said that, right now, the nation's economy is probably the best it has ever been and that's likely due to tax cuts made from 2001 to '03.
Hastings said, "In the Democrats' budget proposal, there are no provisions to make sure those tax cuts are extended."
Hastings also discussed the war in Iraq. "There are self-proclaimed jihadists driving the war on terror," he said. "We have to win.
"If we don't win (the war) in Iraq...there's no question the jihadists will follow us here...I think we better take that seriously and prepare for that."
Simply put, he said, if the United States backs out now, the jihadists will likely attack us here.
When it came to immigration reform, Hastings made his stance clear. "My position is that we need a workable guest worker program," he said.
Hastings said that our agricultural industry is diverse and labor intensive and that "it's always, always been worked by a migrant labor force."
Hastings said that, last year, the Senate proposed a comprehensive immigration reform bill that failed and that the House will not act unless the Senate passes a bill.
He did say he believes in securing the nation's borders and that he's always been opposed to blanket amnesty.