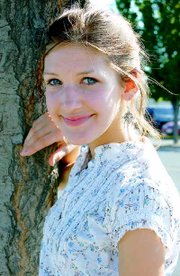 Outlook's Jordie Ricigliano has one busy summer ahead of her. Not only will she be traveling to Europe as part of the People for People Student Ambassador Program, she's also been accepted to Princeton University's elite Summer Journalism Program.
Of the 877 high school sophomores and juniors across the nation that applied, only 22 were accepted to the program.
And the selection process, says Ricigliano, was intense.
Only 140 of the applicants were selected for the first round of interviews, which was a telephone conference. Her interviewers, she said, were all graduates from elite schools, like Yale and Princeton.
During the line of questioning, she said, "I was shaking. It was nerve wracking."
After the second round of eliminations, Ricigliano was accepted to the all expenses paid 10-day program at the university.
Ricigliano, a writer for the Yakima Herald-Republic's Unleashed section, learned about the program via an email from her editor. Ricigliano figured she'd be a fool not to at least give it a shot.
When she applied for the journalism program, she hadn't been given a date as to when it would actually take place. Once she was accepted, she learned that she was supposed to be at Princeton at the same time she was to represent Washington state in Europe through the People for People Ambassador program.
"I was thinking, 'Princeton or Europe?' and it was a tough choice," she said, adding that the trip to Europe counted as college credits. Ricigliano and her mom, Susan, agonized for about three days, trying to decide. Finally, her mom called People for People to see if there were any options.
"We told them our situation and thank goodness they were good enough to work with us. They knew what a huge opportunity this is for me," she said.
Instead of traveling to Europe with ambassadors from Washington state, Ricigliano will travel with students from North Carolina.
She leaves for Europe on July 5 and returns July 25. The Princeton program begins on July 27. Currently, she's working on asking Princeton to allow her to fly straight from Europe to New Jersey, where the university is located, as she has family there and she's trying to avoid jet lag.
Princeton has already sent Ricigliano a 1 1/2" thick study guide that she must read before the program. "I'm going to be getting really cozy with this over the summer," she said, patting the guide.
Ricigliano said that the Princeton program is 10 days of intense journalism training. "They want to put you under pressure, under stress," she said, adding that she's been told the days can run as long as 18 hours. But she'll get to attend seminars on news, sports, opinion and arts journalism and, she added, she'll be learning from some of the best writers in the field.
On the last day, the 22 students will each receive a copy of The Princeton Summer Journal, a direct result of their efforts.
Of her upcoming summer, Ricigliano says, "It's going to be a big endeavor." But, she adds, "Lucky me!"
According to the Princeton program's director, Richard Just, this is the sixth year of the program, which was designed to create opportunities in the field of journalism for low-income students.
"The 10 days at Princeton are designed to encourage students to pursue journalism as a career and to encourage them to apply to elite schools, whose college newspapers are a great training ground for future programs," Just said.
"Our admissions process was very selective this year...so we feel confident that Jordie and other students we accepted are some of the most talented up-and-coming journalists in the country."