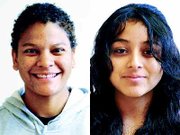 Gracie Ellen Scherr, 76, of Grandview and a former Sunnyside resident, died Monday, Oct. 29, 2007.
She was born Nov. 27, 1930, to Frederick John Blackwell and Ethel May (Shipp) Blackwell. She graduated with honors from Sunnyside High School in 1949.
She married Norbert Herrmann on July 15, 1949 at First Baptist Church, Sunnyside. She later married Mike Scherr on June 21, 1979, in Reno, Nev.
She is survived by her husband of 28 years, Mike Scherr of Grandview; her daughter, Ann Herrmann Berg and husband, Corey, of Yakima; two grandchildren; five step-children; and several nieces and nephews.
She was preceded in death by her parents; two sisters, Phyllis Jerome and Irene Rose Blackwell; and her brother, Frederick John Blackwell Jr.
Viewing and visitation will be held Friday, Nov. 2, 2007, from 12 until 7 p.m. and Saturday, Nov. 3, 2007, from 9 until 10:30 a.m. at Smith Funeral Home, Sunnyside. Funeral services will be held Saturday, Nov. 3, 2007, at 11 a.m. at Smith Funeral Home. Interment will be at Lower Valley Memorial Gardens, Sunnyside.
Memorial may be made to organizations assisting and caring for homeless animals, The Grandview Church of The Nazarene, The American Diabetes Association or Hospice.
More like this story