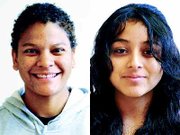 GRANDVIEW - Two players from the Grandview High School girls soccer team have been afforded CWAC all-league honors for the 2007 season.
Anna George of Grandview is one of five defenders named to the CWAC's girls soccer all-league first team. Joining her as a first team all-league selection are fellow defensive specialists Kayte Munson of Selah, East Valley's Renee Cuillier and Stephany Bounds, and Molly Field of Prosser.
Grandview's Anna Maria Sanchez has been named an all-league second team selection for her play as a midfielder.
The Grandview girls soccer team compiled a 3-10 record in conference play this season, and was 3-11 overall.
Deemed the top player in CWAC girls soccer league play this year was midfielder Rochel Burke of Selah. She was named league MVP.
Joining Burke, and the five defenders previously named, on the all-league first team are goalkeeper Raye Wright-DeSanto of Selah, and midfielders Ashley Boge of Prosser, Arianna Mohsenian of East Valley and Danna Johnson of Selah.
The Quincy Jackrabbits were the winners of the team sportsmanship award, and Ellensburg's Glenn Weitz has been named girls soccer coach of the year for the CWAC.