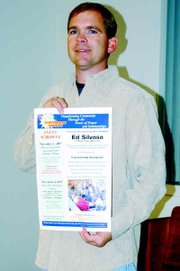 Transformation Sunnyside will host international speaker and author Ed Silvoso of Market Place Ministries this coming Saturday and Sunday at two venues. Both presentations are open to the public.
Instrumental in bringing Silvoso to Sunnyside are Transformation Sunnyside's Jerry Haak, Herman te Velde and Roberto Matus.
The group feels it is important to educate community members in helping to bring change to the city through faith, according to Haak.
He said Silvoso will speak about transforming the community, at the Sunnyside Community Center, located at 1521 South First Street, Saturday, Nov. 3, from 8:30 a.m. to 4 p.m.
Community members are invited to attend and will be challenged to believe they are called to disciple the city, identify needs within the community, plan to meet those needs and pray over the city, said Haak.
A city wide celebration service is planned for Sunday, Nov. 4, at the Sunnyside High School auditorium from 6:30 to 8:30 p.m.
Challenging community members to make a difference in Sunnyside through prayer and bringing God into focus will be Silvoso's primary goal at the event, according to Jerry Haak.
Both events will be presented in English and Spanish. A $5 per person lunch will be provided at the Saturday event.
For more information, call Jerry Haak at 509-949-0604, Herman te Velde at 509-830-4376 or Roberto Matus at 509-305-7725. Information is also available via email at anny@prilucik.com or Transformation Sunnyside's website: www.harvestevan.org.