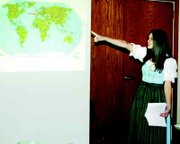 In the hit movie Dumb and Dumber, Jim Carey's character asks a beautiful young lady where she's from. Her answer, Austria.
So Carey's character, trying to be witty, says, "Well, let's throw another shrimp on the barbie."
He confused Australia with Austria, something that happens quite often, exchange student Barbara Muellauer told the Sunnyside Noon Rotary Club this past Monday.
Austria is part of Europe and borders Germany. The language Austrians speak is German.
Muellauer spoke to the club about her home country and some of the lesser known facts.
She said her country shares an immigration problem much like the United States. Residents from Turkey, Slovenia and the Czech Republic pour into Austria, she said.
"They don't learn the language, which makes some Austrians mad," she said.
The cuisine of Austria is derived from the cuisine of the Austro-Hungarian Empire. Muellauer said the food has been mostly influenced by Hungarian, Czech, Italian and Bavarian cuisines, from which both dishes and methods of food preparation have often been borrowed.
"The Austrian cuisine is therefore one of, if not the most, multi and transcultural in Europe," she said.
Wine is another love of the Austrian people. Muellauer said most of the wine in Austria is produced in the eastern part of the country. Vienna, Lower Austria, Burgenland and Styria are all well known grape growing regions in Austria.
Music has long been an important in Austria. The country is home to the famous Wolfgang Amadeus Mozart. The Landler is an old folk dance that was popular in the late 18th century. She said it is believed the waltz evolved from this.
Austrians also like to yodel. "I wanted to be a yodeler when I was younger," she told the club.
Yodeling is a type of throat singing which developed in the Alps. Yodels begin with a single voice melody and then is joined by several more voices. She said the presence of an echo is vital to produce the correct sound.
She did say her country was small.
"You have lakes that are bigger than my country," she told the Rotarians.
She ended her presentation by telling what every Austrian likes...wine and liquor, Vienna melange (coffee), schnitzel and sacher torte (cake).