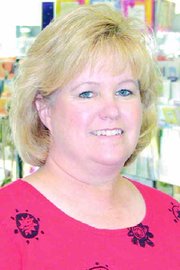 A family member's life threatening food allergy is motivating Theresa Hancock to push for legislation establishing a statewide policy to manage the risk of allergy and anaphylaxis in schools.
Hancock's granddaughter has severe peanut allergies, so severe that if she even comes into contact with 1/600th of a peanut, it could send her into anaphylactic shock.
Hancock said that anaphylactic shock can cause vomiting and even completely close off a person's airway.
There's a very precise plan the family must follow should her granddaughter come into contact with a peanut, Hancock said. The first is to give her granddaughter Benadryl, then to call 911, then administer one epi-pen injection, followed by another.
Her granddaughter is just four-years old.
"As (she) enters school, we find little consistency or any policy on anaphylaxis within school buildings or districts," said Hancock, who added that a sharp pointed epi-pen is the only life saving device for her granddaughter.
"Death from ingestion of peanuts can happen in a matter of five minutes or less. Leaving the fight with parents to have an informed staff in schools is a burden too great," she said.
Hancock said that staff changes are made without parental notification. "So even if we are vigilant in educating, we cannot be at school at all times.
"Schools need to have education and policy on this."
Another concern Hancock expressed is with substitute teachers. Without the knowledge of what to do during an anaphylactic attack, Hancock says a substitute teacher could become a "health disaster" for a child with food allergies.
Hancock says that while some school administrators are pro-active, most are ignorant of the seriousness of anaphylaxis.
Another point of contention for Hancock is where epi-pens are stored. On one visit to her granddaughter's school, the epi-pen was in a locker while her granddaughter was outside playing.
"They didn't take the epi-pen out to the playground with her. When we went into the school, they could not find the key to open the locker to give us the epi-pen.
"Had she been having an anaphylaxis attack, she would not have survived," Hancock said.
After doing some research, Hancock found a bill enacted in New York that addresses a procedure and treatment plan for appropriate school staff should anaphylaxis occur. The bill also calls for a training course to prevent anaphylactic shock and responding to it, as well as appropriate guidelines for individualized emergency health care plans for children with food allergies.
The bill in New York also calls for strategies to reduce the risk of anaphylactic causing agents.
Hancock's first strategy is to appeal to local legislators to sponsor a similar bill. She and her daughter, Cheyenne LaViolette, have expressed a willingness to testify in support of such a bill.
Following that, she'll ask for the community's support in getting such a bill passed.