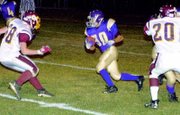 MABTON - The Mabton High School football team couldn't overcome first quarter heartbreak in a 40-6 home loss last night, Thursday, to Cle Elum.
Trailing 6-0, the Vikings were on the move in the first quarter and drove to the Cle Elum five-yard line. Mabton turned the ball over, though, and came away empty-handed.
To compound things, in the final moments of the first quarter Cle Elum's Pat Chase went the distance and returned a Mabton punt for a touchdown to put the Warriors up 13-0.
"That broke our back," said Mabton Coach John Durham. "They have some great athletes in all phases of the game. Pat Chase scored four touchdowns for them."
The SCAC West champion Warriors made sure of the outcome with a 21-point outburst in the second quarter to go up 34-0 at the half.
Cle Elum tacked on a third quarter touchdown to wrap up its scoring. Mabton got on the board with three minutes to play on a 78-yard touchdown pass from Sal Lopez to Josh Partida.
The Vikings' game stats were incomplete, but Lopez completed 4-of-9 attempts. "He probably had closer to 175 or 180 yards, but we didn't have any stats for the first quarter," Durham said. Either way, it was Mabton's most productive night passing the ball all season. "The short passing attack really helped us out and the line gave us some time," the coach noted.
Rushing stats were also incomplete, but Mabton did record 45 yards on the ground. "We didn't have any big runs, but we got just what we needed to get a first-and-ten," Durham said.
The loss to Cle Elum ended Mabton's season at 0-7 in league and 0-9 overall.
It also apparently marked the end of Durham's 31-year coaching career. Citing health concerns, Durham said he would retire from the coaching sidelines.
He thinks highly of his players on this year's Mabton team.
"After 31 years of coaching this is probably the most enjoyable year I've had," he said.
He especially praised four-year Viking football players Eli Perez, Kody Bacon and Jose Alcantar. "Those three kids are great. They are not only good football players, they're personal attributes, poise and loyalty outshadow their football play."
Though he won't be coaching them next year, the Vikes also look forward to key returners, including Lopez, Craig Osborne, Andy Venema, Zachary Perales and Damian Marquez. "They will be very good seniors," Durham observed.