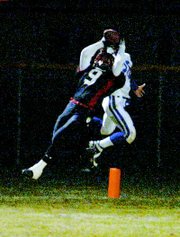 Thanks to their defensive efforts, the Grizzlies' football team overcame a slow start and pulled away for a 35-13 win against the Rogers Pirates this past Friday.
"It's nice to end the year on a win," Sunnyside Coach Mark Marro said. "We played well Friday night."
The Pirates had one very good quarterback, Andrew Durant, and one very good receiver, Jacob Partridge. Once Sunnyside took care of those two players, Marro said the game went well.
Sunnyside used a long drive late in the first quarter to draw first blood. Jesse Montelongo scampered for an eight-yard touchdown run and Matt Jongsma kicked the extra point to make it 7-0 with 2:39 left in the quarter.
"They brought a lot of guys into the box," Marro said. "We threw in a few passes and mixed it up."
In the second quarter Rogers seemed to move the ball at will against the Grizzly defense, and they did, but not when it mattered. Sunnyside used two inspiring goal line stands to deny the Pirates a scoring opportunity.
"They couldn't move the ball rushing against our defensive front," Marro said.
The two goal line stands in the first half pointed out two things for Marro. One, Rogers couldn't run against Sunnyside, and two, the Grizzlies could now focus on Roger's biggest threat, Partridge.
Marro said Sunnyside did a good job of adjusting, running only five guys in the box and concentrating on the pass. Rogers would end up with 79 yards rushing, but 49 of those yards came on just one play.
The Sunnyside offense spent most of its time on its own side of the field in the first half, but in the second, things started to go Sunnyside's way.
Quarterback Adrian Cantu hit Danny Alvarez on a 12-yard pass late in the third quarter to increase Sunnyside's lead to 14-0.
The Grizzlies then took a 21-0 lead just seven seconds into the fourth quarter when Cantu hooked up with Nathan Cornelius on a 15-yard pass.
With 10:24 left in the game, the Pirates finally got on the scoreboard when Durant found Partridge on a two-yard pass.
With the score 21-7, Sunnyside relied on the running of Alvarez and Montelongo. Both running backs pounded the ball against the Rogers defense and Alvarez found the end zone for the second time of the night on a one-yard run.
The Pirates would score one more time but after a failed extra point attempt the Grizzlies led 28-13 and used ball control to run the clock out.
Alvarez picked up his third touchdown of the night on a 10-yard hook-up from Cantu.
"It was a good way to win," Marro said. "Everyone got to play."
Alvarez rushed for 85 yards on 19 carries and caught five passes for 53 yards. Montelongo rushed for 82 yards on just five carries and had one catch for 11 yards. Joseph Villanueva had 43 yards rushing on 10 carries and 27 yards receiving.
Cantu completed 11-of-22 passes in his last high school football contest. He ended up with 156 yards and passed for three scores.
Nathan Cornelius caught two passes for 65 yards, including a score, and picked off a nice pass in the end zone to stop a Rogers drive. Gibby Briones also had an interception.
The win gives Sunnyside a 5-5 record for the year, something Marro said the Grizzlies haven't accomplished for a long time.
He's hoping to build off this success for next year, but admits it will be challenging.
"We're real young next year," he said. "The seniors this year have really been the foundation here for a while."
He noted the JV's season of 6-2 and said he will draw off that next season.
As for his current team, he had nothing but praise.
"They're a great group of kids," he said. "They're everything this community should be proud of. I'll miss them."