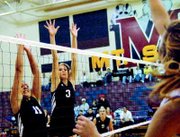 SPOKANE - After two 3-0 losses to the Hanford Falcons on Sept. 11 and Oct. 11, Sunnyside finally got a game off the Falcons but lost 3-1 in a Regional first-round match in Spokane this past Saturday.
Hanford used its 21-25, 25-13, 25-8, 25-11 win against the Grizzlies as a starting point on their way to winning the Regional championship against the Kamiakin Braves and gaining the No. 1 seed to State.
"The kids tried their best," Sunnyside Coach Mhike Dumo said.
Sunnyside surprised the Falcons in the first game by trying something new.
"They were expecting us to run our same old offense," Dumo said. "We changed the position of our players and that helped us out a bit."
Sunnyside raced to a lead in the opening game, never looking back. The Grizzlies maintained a five-point lead throughout most of the game.
Hanford calmed down for the second game and played better, which rattled the Sunnyside players, according to Dumo.
"We started not passing the ball," he added.
Dumo said Hanford has one server that has given Sunnyside problems all year long.
"She kind of owns us," Dumo said.
The Hanford player has a jump serve she floats over the net, giving the ball plenty of movement. This proved to be too much for the Grizzlies, who lost the second game 25-13.
Things only got worse for Sunnyside. The Lady Grizzlies had trouble keeping up with Hanford's main player, Dumo said.
"She was just too much," he added.
In the fourth game Dumo said his team was really trying hard to get to that fifth game but that brought on some nerves.
"We just couldn't line up our blockers with their main hitters," he said. "We couldn't get a good read on their offense."
Melissa Stamschror led the Grizzlies with 24 assists, six digs and one ace. Jordyne Jaquish followed with 10 kills, four blocks and three digs. Claire Schilperoort had seven kills, nine digs and two aces. Molly Dolan contributed one kill, four blocks and one dig. Alexis Ramos added a kill, 13 digs and one ace. Lani Ramos finished with four kills, 16 digs and one ace, and Kasi Guillen had 11 digs and two aces.
Sunnyside finishes with a record of 7-11 for the season.
"It was a good season and it was all the girls," Dumo said, giving his team the credit for their season. "They are a really good group of kids."