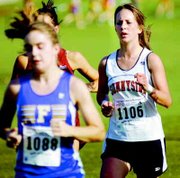 PASCO - Sunnyside's Brittany Messmore and Jacob Rogers put the finishing touches on the Grizzlies' 2007 cross-country season at this past Saturday's 3A State meet, staged at Pasco's Sun Willows Golf Course.
The senior Messmore, making her second consecutive appearance at State, toured the 5,000-meter course in a time of 22 minutes, 11 seconds. That clocking left her in the middle of the pack, in 108th place.
Her teammate, Rogers, was the 125th runner to cross the finish line in the 3A boys race. The junior, in his first ever appearance at State, clocked a time of 18:33.
"Both runners, but especially Jacob, spent all of last week trying to recover from Regionals," said Sunnyside Coach Robin Bryson. "Regionals took a lot out of their legs."
Saturday's game plan for Rogers, as it has been for most of the fall season, was to stay back of the leaders early on and pick his spots.
"His strategy was to start in the middle of the pack and start picking people up as the race went on," said Bryson.
Unfortunately, said Bryson, "....he got stuck where he was."
That was due in part to his leg weariness from the Regional race the weekend before. Also, said Bryson, the 3A State meet competition tends to be a bit deeper and talented.
"But overall, Jacob ran fine," said Bryson. "The big thing is, he now has State meet experience. He has something to build on for next season."
The 3A boys race winner proved to be Mt. Rainier's Ryan Prentice. He sped to the finish line in a time of 16:01.
Andrew Kimpel of Spokane's North Central High School, the winner of the Regional race in which the Sunnyside harriers competed the week before, placed second overall at State with a clocking of 16:05. North Central won the 3A boys team title at State by placing four runners in the top 10.
The top finisher from the Columbia Basin League in which Sunnyside competes was Southridge's Andrew Gonzalez, fourth overall in a time of 16:20.
In assessing Messmore's performance at State, Bryson said the Lady Grizzly senior turned in a strong effort.
"Obviously, she wanted to run faster and place higher," said Bryson. "But she did fine. To her credit, she's a two-time State meet qualifier.
"Both, she and Jacob had really good seasons," Bryson added.
The 3A girls race winner was Squalicum's B. Crossman, who clocked a time of 18:46. The Columbia Basin League's top finisher was West Valley's Lisa Olander who placed third overall in a time of 19:27. Bellevue's Newport High School won the 3A girls team title.