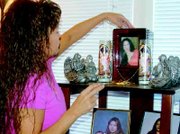 Veronica Ayala, the young mother of six children, was on the right path to getting her life back in order when she was murdered this past July. Now, her mother, Diane Cantu of Sunnyside, finds herself caring for Ayala's children, ages 7 to 2, while still coming to grips with the fact that her daughter's alleged killer, Eric Flores, is still on the loose.
"The way I see it, you take a life, you pay with a life," says Cantu. "A lot of people don't see it that way, but that's my belief."
Cantu's disturbed that at the time of Veronica's murder, the young woman was portrayed as having gang ties. That's not true, says Cantu. "But he is," she says of Flores.
Cantu says that what is true is that at the time of Veronica's death, she had just finished working with the state to get back her five-year old and three-year old. She says that Veronica, who had overcome drug and alcohol challenges, was consistently passing random drug testing.
"She was focusing on (bettering) her life for her and her kids," says Cantu, who added Veronica only got to enjoy her family being back together for one month before she was killed.
On that day, July 29, Cantu said Veronica came by for a visit at about 2:30 p.m. and borrowed a small amount of money. "I gave it to her and that was it," recalls Cantu. "She gave me a kiss and left."
About 13 hours later, Cantu got the dreaded call and raced to Veronica's apartment. "We got there before the ambulance came," says Cantu, adding that the kids were home when the shooting happened and that Veronica's seven-year-old, Deon'dreh, herded the smaller children into another room. Cantu said the oldest of her grandchildren told her at the time, "I didn't want them to have nightmares, Grandma."
After the tragic end to her daughter's life, Cantu couldn't bear to have the children be separated or put in foster homes, so the kids moved in with she and her two sons, Jessie, 15, and P.J., 10. "I see something of my daughter in each of their faces. There's no way I can separate them."
Life has changed drastically.
"Every time the door opened, they thought mom was going to come in. It was devastating to watch," Cantu recalls.
The children were all used to sleeping with their mother, too. Veronica's only daughter, Karizma, would wake Cantu up in the middle of the night, saying she was scared and asking to sleep with her grandmother.
That's changed now, and so have some other things. With eight kids living under the same roof, there are house rules and routines to follow in order to avoid chaos.
"Sometimes I feel like I'm a sergeant at an Army boot camp," says Cantu with a chuckle. "In the beginning it was chaotic, but I think I've got it down now."
The kids, especially the boys, seem to have "bottomless" stomachs, Cantu notes, wryly.
The kids, four of whom go to school and four of whom go to daycare, get up and get ready in the morning, change out of their jammies, march to the hamper and drop in dirty clothes, then seat themselves at the breakfast table. Once they've finished eating, they deposit their dirty dishes in the sink. In order to keep the home clutter free, the kids promptly put their toys away when they're done playing.
Cantu says that since Veronica's death, the family has become more of a team than ever before. Her 18-year-old son frequently visits, just to help Cantu with his nephews and niece. Cantu jokes that she's got her very own football team and cheerleader.
Cantu said that while the kids are gone, that's the time she tries to use for her grieving, her crying. In the beginning, the family struggled with one person starting to cry, setting off tears for all the rest.
Within just a few days after Veronica's death, Cantu was forced to clean out her daughter's apartment. All Cantu could find for the kids were summer clothes. "I don't know if she had a storage unit or what," said Cantu.
Thanks to the efforts of EPIC staff in Sunnyside, by the time the cold hit, several donations had been received, including brand new coats and pajamas for all six kids. Over the course of time, there's been help and Cantu's been grateful. Help has ranged from donations of beds for the kids to groceries.
While cleaning up Veronica's apartment, Cantu found a letter intended for her 15-year-old son, Jessie, encouraging him to do well in school. It's made a lasting impression. Every morning when he wakes up, he looks at the letter. Cantu believes this is why Jessie now has the highest math grade in his class. He's trying to follow his big sister's advice.
The family honors Veronica with a memorial in the living room, featuring her pictures, crucifix, ashes, religious candles and six little angels lined up. The angels, Cantu explained, represent each of Veronica's children and contain a small amount of her ashes. Often, the kids will bring little keepsakes to the memorial to honor Veronica.
In the meantime, Cantu and her family hopes in earnest that Eric Flores will be arrested. "If you see him, call the police," urges Cantu.
Flores is described as being 5'6" and 125 pounds.