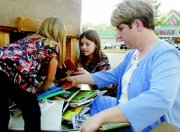 Because of the generosity of local community residents, the book drop-off box in front of the Daily Sun News office often is filled to capacity.
Where, one might wonder, do all these books end up?
Sandra Linde, a volunteer with the Sunnyside's Promise group, said she and her family enjoy collecting the books from the donation box every couple of months, helping to provide more reading opportunities for children in area schools.
"This year, the local elementary teachers were given the opportunity to pick out books for their classroom libraries," said Linde.
She said Sunnyside's Promise also makes available the books to young children at the start of the school each year. "Children are able to pick out a book that they want, and they are more likely to read the book if they are the one to pick it out," Linde stated.
Her husband LaDon assists her in collecting the books from the donation box, and he mirrored her thoughts, stating, "Reading is the foundation to education. Greater opportunities are available to children through education, the great equalizer in life."
After having collected the books from the box, the Lindes sort them according to age group. "We also have to make sure they are appropriate," said Sandra.
"I look through the Spanish books before they are given to the Spanish teacher at the high school because they sometimes contain inappropriate material for youngsters," LaDon said.
Adult books are sorted into boxes to be taken to bookstores for credit. Sandra said she uses the credits for the purchase of children's books when Sunnyside's Promise is out of them or to fill a special request made by a teacher, stating she has more than $140 worth of credits at one store in particular.
"We welcome all books. The community has been wonderful providing the books. It amazes me to see all the books they donate," Sandra said.
Because her family feels so strongly about helping Sunnyside's Promise fulfill the reading needs of the community, the Lindes said their son, Jonas, will be repainting the box with a red wagon motif commonly associated with the organization they assist.
"Sunnyside's Promise has always wanted a red wagon theme, and he will be painting the box as his Eagle Scout project," said Sandra.
The hope is that more community members will understand the purpose of the donation box, donating even more books.
"Many don't know the books donated are for Sunnyside's Promise's 'Promise To Read' program," Sandra stated, adding, "If they know what the book donations are for, they might understand their books go to a good cause."