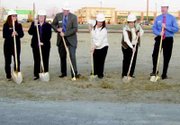 Sunnyside's Columbia River Bank broke ground for its new building Tuesday evening.
Members of the bank's headquarters in The Dalles and various branches throughout the region attended the groundbreaking ceremony held at the corner of East Lincoln Avenue and Yakima Valley Highway, where the new building will be constructed.
According to Roger Christensen, the bank's president and chief executive officer, the new facility will boast water features, river rock and woodwork to represent the bank's roots in the Columbia Gorge.
Christensen added that the new facility will be approximately 4,800 square feet in size, with four drive-up lanes. "It is the first facility with this design," he noted, stating the bank hopes to have more facilities similar in construction.
He said the company has been in existence for approximately 30 years and continues growing. As a part of that growth, Sunnyside has become home to one of its 22 branches. "The branch makes the decisions for its area...Verden Haddox and the team at this branch make it successful...We are very grateful to Sunnyside and the team here," said Rogers.
He stated that Columbia River Bank is a community bank, and it is his prediction that the bank will continue its growth in the region. "We will have two more branches in the Tri-Cities in the next year-and-a-half," he said.
Haddox attributes the success of the Sunnyside branch to his team of employees and offered his appreciation to the customers of the branch.
The new facility is due to be open in the spring of 2008.
Following the groundbreaking ceremony, the bank hosted a "Customer Appreciation Day" social for those in attendance and bank customers at Snipe's Mountain Restaurant and Microbrewery.
At the social, many enjoyed hors d' oeuvres and wine, while delighting in getting to know one another.