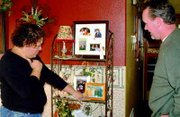 A 30-year-old mother of one gains new life with a new kidney and pancreas.
A 34-year-old mother of twins has a better chance of keeping up with them thanks to a new liver.
A fatal auto accident near Prosser on Oct. 11 snatched 2007 Sunnyside High graduate BJ Miller from his parents, John and Daria.
Three separate situations connected because the Millers turned their family tragedy into hope by donating their son's kidneys, liver, pancreas, eye corneas and heart valves after his death in order help others.
The two mothers listed above, as well as a 27-year-old woman, all received BJ's organs. The 30-year-old mom, a diabetes patient, was only the third person in state history to receive a dual kidney and pancreas transplant.
John and Daria are both listed as organ donors-have been for years-but that didn't make the conversation any easier when it came to their deceased son.
"I couldn't believe I was at the table having that conversation," a tearful Daria recalled of discussions with representatives from Lifecenter Northwest. Daria praised the caring staff at Lifecenter in the moments after BJ was pronounced dead at Harborview Medical Center in Seattle.
The Millers also consulted Dr. Halma, their family physician in Sunnyside, as well as the priest from the St. Joseph's parish here. "I asked them if we were doing the right thing," Daria said.
The encouragement from others and BJ's own wishes told them it was the right thing.
John and Daria recalled a program on the Discovery Channel they watched with BJ just weeks before his death. The documentary showed how lives are touched through organ donations, bringing life, sight, hope.
"BJ said, 'Dad, that is cool. I would want to do that!'" John smiled.
They see the donated organs as honoring BJ's love of life. "We couldn't bring our son back but we knew something good could come from this," Daria said.
It's also touching to Daria that her son is helping three mothers have new lives.
"It makes me feel loved because BJ and I had a very special relationship," Daria said, weeping. "For him to know what an impact he's having on these moms, I know he's saying, 'Thank you Mom."'
The Millers haven't had a chance to know who the organ recipients are, only knowing they are from western Washington. They have taken steps to introduce themselves to the recipients in hopes of setting up a meeting.
Though she is still grieving the loss of her son, Daria is already looking forward to helping others see the benefit of being an organ donor. She says in January 2008 she is going to spread the word about being an organ donor to Lower Valley schools, churches, hospitals and Department of Licensing offices.
Nationwide, she says, there are 95,000 people waiting for an organ and that 18 die each day waiting for an organ.
Daria said it's especially important for young people to learn about becoming an organ donor. "The biggest cause of death for people under 18 is auto accidents," she said.
More on organ donation is available by calling Lifecenter Northwest at 877-275-5269 or at www.lifecenternorthwest.org
Daria's organ donor message is simply this, "There is life after death."
In the case of her son BJ, there were three lives saved after death.