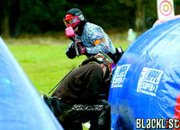 Dr. Tim Thompson, a practicing chiropractor in Sunnyside, is no stranger to pushing his body to the limit.
Simply put, he's a thrill seeker who enjoys challenging his inner-most being. He's hiked to the top of mountain peaks and has competed in grueling, cross-country bicycle races. The first time he ever competed in a half-marathon run, he was only 12 years old.
Even the profession he first chose for himself, being a commercial pilot, wasn't your typical 8 to 5, punch-the-clock and head for home job.
"After crashing the same plane twice, it was time to try something different," he joked, referencing his switch in careers to the medical profession.
Thompson works diligently to keep his body in shape for whatever challenge comes along. Of late, that challenge has meant going to war!
No, not the type of war real American troops are involved in. Rather, the battlefields he and his teammates deploy to are splattered with bright colors of orange, red, green and blue.
Thompson has been caught up in the growing wave of young "recruits" who battle it out in paintball wars. Armed with paintball guns, goggles and a burning desire to zap the enemy before first getting splattered by their foes, these warriors compete in tournaments all around the country.
The pinnacle of these paintball wars is the Spyder Cup invitational, which was staged in Los Angeles this past weekend. More than a thousand teams entered qualifying tournaments earlier in the year in the quest to land one of the 80 invites to the LA. competition.
Up for grabs were four H2 Hummers to the winning team, one for each of the three team members, as well as a Hummer for the team's sponsor.
Well known throughout the Pacific Northwest circle of paintball enthusiasts, Thompson was recruited earlier this year by the Virtual Assault team out of Spokane to fill an open spot on the squad. The crew signed up for a Spyder Cup qualifying event in L.A. this past July, and finished seventh to land one of the 80 berths to the big tourney.
A perfect ending to the story would be that Thompson and his two Spokane teammates, Dustin Demara and Chris Dyreson, returned home from Los Angeles last weekend each driving a brand new Hummer. Unfortunately, that wasn't the case for the trio.
"We finished 10th overall," Thompson said, which isn't bad considering there were 80 teams there and the competition was stiff, he added.
"It probably also didn't help that we had one of the oldest teams there," the 36-year-old Thompson continued, noting his two Spokane partners are 27 and 36 years of age. "At this level of competition, you mostly see just young guys out there."
In an effort to help promote the new sport, Thompson and other local paintball enthusiasts will be staging a paintball tournament for beginners on Saturday, Dec. 1, in Grandview. The entry fee will be a donation to the Toys for Tots program. Thompson said those who wants particulars about the tourney can contact him at 840-4313.