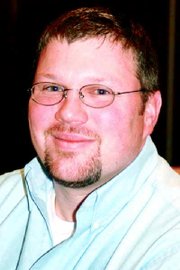 YAKIMA - Dr. James Olmstead's message to tree fruit growers is celebrate diversity.
Olmstead, a tree fruit horticulturist, started work last week in Yakima as a WSU extension agent.
Before moving to Yakima, Olmstead spent two years at the WSU research facility in Prosser.
While in Prosser, Olmstead researched breeding new types of tree fruit, such as wider varieties of apples and cherries.
Olmstead's focus on expanding tree fruit varieties continues at the WSU Extension office as he works with local farmers and growers.
Olmstead says it's important for growers to have diversity in the types of fruit varieties they grow because it can lengthen the season and create a buffer against bad weather.
A recent cherry variety, Chelan, for example, is harvested a week earlier than better known Bing and Rainier cherries. That, in turn, means the harvest is more spread out and agricultural workers are better utilized.
In addition, rainfall doesn't mean that the entire cherry harvest is ruined if there is diversity in when they are ripening.
In essence, Olmstead is hoping growers will see the wisdom of not putting all their fruit in one basket. In a word: diversify.
"It can fit in well with a grower's portfolio," Olmstead said of Chelan cherries.
The WSU and Michigan State University grad said his first task with the county extension office is to visit with growers and find out what issues are important to them.
Olmstead said he wants to help growers get the most out of their efforts. He noted their priorities will be his priorities as he settles into the new post.
Olmstead can be reached via the extension office by calling 509-574-1600 or e-mail at jwolmstead@wsu.edu
With all the research he's done at breeding new fruit varieties, is there such a thing as an Olmstead cherry?
"Not yet," he laughed. "But I'm trying."