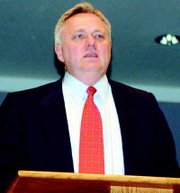 Abandoned at age three and consigned to an orphanage near Chicago, Ill. for 14 years, Rob Mitchell knows how it feels to be cast aside.
After his father attempted suicide and his mother struggled with depression, Mitchell was left at the orphanage. As any three-year-old would, Mitchell said he cried and ran to the door to try to find his mother.
Tears didn't earn him sympathy from a caretaker at the orphanage, just punishment. "The pain from the spanking soon replaced the pain from losing my mother," he said.
Now a "Focus on the Family" author, Mitchell was in Sunnyside last night for the annual Life Options banquet held at the Neighborhood Assembly of God Church.
Mitchell described a life of daily beatings by older boys at the home-"They knew how to hit so it wouldn't show marks," he recalls-and growing in anger and bitterness.
By high school, Mitchell was earning good grades and proved himself a good athlete. Anger got in the way of his athletic success, but that was just the beginning of his battles.
He said the intellect and good grades conflicted with self-doubt that came from living so long in an orphanage. "We told ourselves we didn't deserve to go to college," he said.
With a small scholarship in hand and a newfound faith in Jesus-"As a 17-year-old punk I gave Jesus a chance and it radically changed my life," Mitchell says-he went on to get an education. He is the author of the well-known Castaway Kids published by Focus on the Family.
His experience as a castaway was a centerpiece to Life Options' "Rescued" theme for the event.
Mitchell said children born and unborn are in need of rescuing today. He noted that "34 percent of all children are growing up fatherless." Mitchell added, "It is time for American males to quit being pathetic."
He encouraged men to take the simple step of describing their work to a child and show them what they do. "Just show up and show up consistently," Mitchell said.
As for the unborn, Mitchell noted, "I hated my childhood, but there was not a boy in the orphanage who wished he hadn't been born. All we wanted was a chance."
His message in Sunnyside was to also give the unborn a chance through programs such as Life Options that help parents, and their child, cope with pregnancy.
John Fannin/Daily Sun News
Life Options Executive Director Jan McDonald shares the program's successes, including 4,000 clients who were served during 2006.