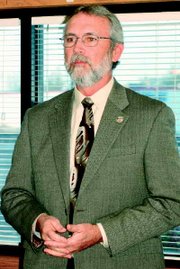 Senator Jim Honeyford and Representatives Dan Newhouse and Bruce Chandler were the featured guest speakers at a Republican Club meeting held this morning (Friday) at the Sunny Spot cafe. The purpose of the meeting was to discuss the 2008 legislative session.
One topic of discussion was legislation defining gangs and gang-related behavior.
Honeyford said, "I think we're going to have a uniform definition that the state will say the city and county have to follow."
Chandler added that a misconception exists that gang problems are prevalent only in the Yakima Valley or Central Washington. That's not correct, he said, adding that he spoke to police officers in Seattle who have identified 80 different gangs in that area alone.
Another interesting topic of conversation is the fact that Dino Rossi has announced that he will challenge Christine Gregoire's Governor seat.
Said Honeyford, "We have Rossi running again, which will hopefully be better than last time." He added that there is proposed legislation to allow for election day voter registrations and expressed some concerns as to how those registrations would be verified.
Chandler said, "Next year is going to be one of the most intense elections we've ever seen."
Newhouse addressed the supreme court's decision that declares Initiative 747, which caps property tax increases to 1 percent, unconstitutional. He said it's possible that now that the decision has been made, some taxing districts may decide to "play catch-up" and tax property owners for the past several years in which only 1 percent was imposed.
Newhouse did say, "You will probably see legislation to re-impose limits on property taxes."
Lynda Jo Gross/Daily Sun News
Rep. Bruce Chandler addresses Republican Club members during a meeting held this morning (Friday).