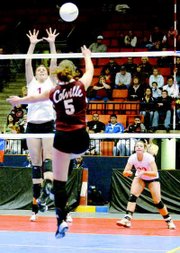 KENNEWICK - The Toyota Center here is used for ice hockey games, and an ice cold run yesterday cost the Grandview High School volleyball team a shot at the 2A State title.
Top-ranked Grandview's title hopes slipped away in its second match yesterday, a 3-2 loss to seventh-ranked Lynden.
The Lady Greyhounds took care of business in the opening match, a closer than expected win over Colville by scores of 25-18, 26-24, 25-17.
"I don't know if it's because it's an ice rink, but the girls did not play well," said Coach John LaFever. "We did not pass the ball well and we played poorly. I don't know why, exactly, but the main cause was our passing."
Grandview was on thin ice early against Lynden, losing the first two games 25-21 and 25-18.
It was a shock to the system, given the Lady 'Hounds didn't lose more than one game in any of its previous victories, and even that was rare given Grandview's routine sweeps of opponents.
The Lady Greyhounds rebounded with 25-13, 25-16 wins in games three and four to set up a deciding first-to-15-win-by-two game three.
"The whole team started to play real well," LaFever noted.
Game five proved to be a snapshot of the entire match, as Grandview trailed by six points early on. Again they rallied and actually had match point on four different occasions, the last an 18-17 lead. Grandview couldn't finish the comeback, as Lynden scored the last three points to win the match.
"We played our worst volleyball in years, then we had one of the greatest comebacks ever. But we didn't finish," LaFever summed up.
After the heartbreak of losing out on a title bid, the Lady Greyhounds had to regroup for one more match yesterday to clinch a trophy.
"You don't get to put a flag up on the (gym) wall if you don't get a trophy," LaFever said he told the girls.
The chance to at least bring home hardware motivated Grandview to a 25-15, 25-22, 26-24 sweep of Pullman.
For the three matches combined, Grandview's Kinzi Poteet had 44 kills, while Katie Veloz hustled for 53 digs.
Vanessa Medina handed out 91 assists in the three matches for the Lady Greyhounds, including a monster 45 assists to go with 17 digs in the loss to Lynden.
Grandview's Raissa Licano had 12 kills and eight blocks and Kealey Johnston 24 digs in the victory over Pullman.
Grandview, 32-3 overall, plays Burlington-Edison at 6:30 p.m. today for fourth-place honors. The loser will take home the seventh-place trophy.
A look at today's semi-final bracket has LaFever pondering a "what-if" scenario had his squad skated past Lynden.
"Three teams in the semis (Selah, Ellensburg and Tumwater) are teams we've beaten twice this season," LaFever observed. "At least one of the teams we've beaten will play for the State championship. Yeah, it's kind of interesting."
Corey Russell/Daily Sun News
Grandview's Kealey Johnston (left) and Sydney Mottice (right) prepare for a block against Colville's Ashley Christie in a 3-0 win to open the State 2A volleyball tourney.
Corey Russell/Daily Sun News
Lady Greyhound Vanessa Medina blocks a Colville kill attempt. Medina had 17 assists in the 2A State opener against Colville, and had a total of 91 assists for Grandview's three matches at the Toyota Center yesterday.