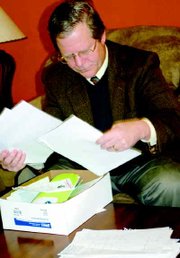 In between meetings last Thursday, H&H Furniture owner Mark Peterson rifles through a shoe box of paperwork at his Sunnyside store. The box is overlowing with e-mails and ledgers that he says are evidence of crime and police inaction.
Sometime over the weekend of Oct. 13-14 his Sunnyside store was cleaned out by burglars who made repeated trips to steal what Peterson figures is about $20,000 in furniture and appliances.
A now former employee whom he says not only helped orchestrate the inside job also embezzled nearly $10,000 in funds from the Sunnyside store's cash register between Oct. 15 and 27.
That's enough to upset anyone. Peterson isn't just upset, though, he's smoke-out-the-ears angry because he says Sunnyside Police delays and lack of communication have helped the prime suspect get away with a light slap on the wrist.
Peterson immediately contacted police on Oct. 15 after learning of the burglary. It was eight days, he says, before Officer John Chumley finally contacted him.
Sunnyside Police Chief Ed Radder admits his department should have done a better job of getting someone assigned to the case sooner.
Still, there was hope for a break in the case when, according to Peterson, Chumley found what he called a "smoking gun" in Sunnyside store ledgers from Oct. 19.
The books show that on that day one of three employees suspected in the burglary heist also signed into the Sunnyside store. Peterson says the employee then used a former employee's name to log on to the cash register and embezzled more than $500.
Peterson said Chumley told him the employee would be arrested on Oct. 29. The store owner was shocked the next day to see the employee show up for work and fired the person. Since an arrest did not take place, Peterson called Chumley only, he says, to be told, "I was wasting his time" when he could be "working on the case." Peterson says Chumley told him to stop calling and hung up.
Sergeant Jeff Cunningham called Peterson on Nov. 2 to tell him the employee was arrested and released on a charge of stealing the $500 on Oct. 19.
Peterson says he told Cunningham that the employee stole much more than that over eight different occasions between Oct. 15 and 27. Cunningham apparently did know about the other seven instances of theft, even though they were in the file.
Radder said he will investigate the remarks Chumley reportedly made and admitted it's possible Cunningham may not have seen the other seven files. He admitted the department should have contacted Peterson to let him know the employee was not arrested on Oct. 29.
Radder added, though, that some of the information his office received from Peterson on the case "didn't pan out." He noted, for example, a witness who says that the employee in question was not among those in the store at the time of the burglary.
Radder noted that the department is still working to get witness testimony. Peterson claims that two key suspects in the case still haven't been interviewed more than three weeks after the burglary.
Peterson is not the only Sunnyside business person to experience police delays.
Barb Wells runs Campbell Storage, and she says it took four weeks for police to get involved in a theft that hit her business earlier this summer.
"I didn't have a lot of luck with the receptionist in making an appointment," Wells said. "It was difficult to get evidence to an officer."
Radder says the department has made changes in responding to victims. Formerly, the officer who filed the report on a case was the only one who could receive comments or evidence from a victim. That resulted in delays when the officer had a day off or, as in Wells' case, went on vacation. Radder notes that now any officer can communicate with victims
Wells praised Radder for helping her work through the legal process. She feels the police department needs more resources to fight theft, burglary and other crimes. She says those are getting pushed to the back burner.
Peterson is upset with Radder. He says he left voice messages for Radder and had to contact City Attorney Mark Kunkler three times in order to reach the chief.
Radder, Peterson asserts, told him he didn't know how to work the police department's voice mail system. Radder denies that, though noting there was a problem with the city's three-way calling system when Peterson attempted to speak with the chief and Kunkler at the same time.
"We need to focus on the bad guys," Radder says, noting that his department is actively working the case.
Peterson, though, wonders, "If the city manager can be replaced because of not doing his job, why isn't the chief of police looked at in the same way?"