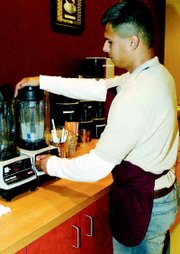 Abel Garcia always knew he wanted to have his own business, he just didn't realize that business would be in retail.
"It was really just an opportunity," Garcia said of his recent business venture.
Garcia has been working in air conditioning and heating repair for the past several years and had even briefly had his own business with some other partners. That didn't work out as he planned and because this is the slow time of the year for the air conditioning business, he was able to take the opportunity to open a coffee house.
The Caffeine Cup opened for business Nov. 5 and is located at 1829 S. First St. in Sunnyside, right next to the Conoco gas station.
Garcia thanked his mother and father for the opportunity. His father purchased life insurance before he passed away five years ago and his mother used that money to pay off the family home. When the coffee shop opportunity came along, his mother used the family home to secure credit to open Caffeine Cup.
"The owner (of the building) wanted to give this place to a young, hard working couple," Garcia said. "When we got it the place was already designed for a coffee shop."
Garcia is just leasing the building but has purchased the equipment and furniture used in the business.
"It's a great location and an excellent time to do it," he added. "With the cold weather coming on, everyone wants a hot drink."
The Caffeine Cup offers customers hot coffee, espresso, smoothies and pastries. Garcia said he plans to offer a cold deli line as well come spring. He proudly serves Tully's coffee.
Along with his fiancée Maria Corona, Garcia has one full-time employee and two part-time high school students working at the coffee house.
The Caffeine Cup offers three daily drink specials and is open from 5 a.m. to 7 p.m. daily.
The shop has a drive-thru window for customers on the go and a wide screen television featuring satellite inside for those who want to relax a bit. The Caffeine Cup also offers Wi-Fi so customers can use the internet on their laptops when they stop by.
Once all the tables have arrived, Garcia said his place of business will be a set up for meetings and study groups. He's also planning to put in a few couches as well.
Another cutting edge idea Garcia has is to eventually add a delivery service. This would allow a person anywhere in Sunnyside to order a cup of coffee and have it delivered to their place of business or home.
His goal to building up the business is simple.
"Here we will try to build a relationship with our customers, not just sell them coffee," he explained.