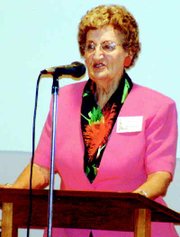 PROSSER - Retired school counselor Betty Beckwith of Clackamas, Ore. jokes that she raised her kids, then went back to school to learn about children.
Beckwith wears a smile when she talks about her mid-life transition into counseling, but her childhood in rural South Dakota was no laughing matter.
Yesterday, Monday, she told the Lower Valley Christian Women's Club here about her years essentially as an orphan in South Dakota. Beckwith was five when her mother died and her father was unable to cope with the loss. Her older brothers and sisters were too busy keeping the family home afloat to spend much time with her.
Beckwith recalled growing up with lunches of "balloon bread and sugar water."
She remembered the joy of summer Saturday evenings playing with her friends in town, then her sorrow as one playmate after another returned home with their families, leaving her alone to walk home in the darkness.
Fear of being alone and feelings of inferiority continued with Beckwith into her high school years. "I didn't tell anyone I was scared because it wasn't cool," she says.
Beckwith worked her way through college to become a teacher. She later joined family members in Oregon, where she attended church.
It was there, she says, that her belief in Jesus Christ went from being something she knew in her mind, to being a faith that she felt in her heart.
From personal experience, she told audience members that faith in Jesus is the answer if they feel lonely, inferior, or unable to maintain relationships with God and those around them.
Beckwith noted, "Jesus says he is standing at our heart's door and wants to come in."