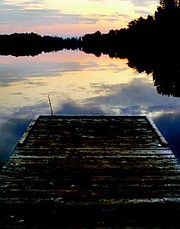 Knowing I'm not the only person who hears his cell phone ring when it has not in fact rung, makes me feel a little less crazy. The phenomenon, called "phantom rings," apparently affects countless other people, or at least enough folks that The New York Times wrote about it.
Also called "ringxiety" or "fauxcellarm," the condition can be set off by a noise that sounds similar to a phone's ring or nothing at all. In my case, the affliction seems unconnected to reality given that I went through a period where I was sometimes woken up by a cell phone that had not actually made any noise.
For me, this disease likely traces back to my days as the editor of a daily newspaper where breaking stories, printing disasters and any other manner of problems set my phone ringing at all hours of the night. Nobody ever calls after 8 p.m. with good news and, like many editors, I became conditioned to the late-night ringing being a sound to dread.
For a few months after I left that job I would wake up in the middle of the night to the sound of my cell phone ringing. Rushing from my bed, I'd run down a flight of stairs to grab my phone only to discover it had not, in fact, rung.
This happened relatively often and even during my waking hours I regularly fished my phone out of my pocket to answer it when nobody was actually calling. Though it wasn't quite a voice inside my head telling me to murder people, the frequency of these mysterious false rings concerned me a bit and made me at least mildly question my mental health.
Fortunately, the problem mostly stopped when my son was born and sleep interrupted by false rings was replaced by sleep deprivation. The complete fear of being responsible for my first child did, however create its own mild mental illness.
For quite a few months I'd rush into my son's room in response to noises I thought I had heard when he was actually sleeping peacefully. I'd even hear a crying baby when I traveled - not an impossibility in a hotel - but likely not occurring as often as I heard it.
Though I'm not a psychologist, I am married to one, which probably qualifies me at least in certain states to diagnose my hearing of these phantom noises as being anxiety related. Certainly putting out a daily paper with a too small staff and a corporate boss prone to firing people on a whim could make anyone anxious and being responsible for the fragile life of a newborn can obviously do the same thing.
I'd have to imagine that the stress of being available at all times caused by the invention of the cell phone has led to an increase in anxiety related problems overall. Whereas a vacation used to mean a trip to someplace where work and reality could not intrude, we now sit on the beach with our phones and laptops next to our tropical drinks and suntan lotion.
I'm pretty sure I no longer have an off switch and even if I could leave my cell phone behind, the anxiety of not knowing what might be happening would drive me crazy. This may not be healthy for me, or anyone else, but it has created a hyper-productive society full of people who answer their phones before they even ring.
Add in the weird phenomenon of people with those invisible Bluetooth headphones and we're basically a nation of people walking around talking to ourselves deathly afraid that we might miss something. I'd certainly like to be able to relax and maybe not be reachable for a few minutes, but unless everyone else agrees to do the same thing, I'm not going to be the one person out of the loop and off the grid.
Daniel B. Kline's column appears in over 100 papers weekly. His new book, "Easy Answers to Every Problem," can be ordered at amazon.com or barnesandnoble.com. Daniel B. Kline can be reached at dan@notastep.com.