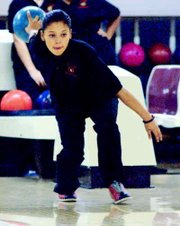 Despite a match best 287 two-game series from Sunnyside sophomore Ileana Martinez, the Lady Grizzly bowling team sustained a 2-1/2 to 1-1/2 points loss to the visiting Selah Vikings yesterday afternoon.
Martinez rolled a team best 132 in the opening contest, but it wasn't enough as Selah prevailed 597-529. The Vikings were led in the opener by senior Emily Luke with a 139. Junior Danielle Erickson and sophomore Kim Foster each added a 121 in the first game for the Vikes.
Game two also went Selah's way, a 672-611 decision. Senior Alyssa Beemer shot a team high 142 for the Vikings that game, with Erickson adding a 141. Martinez topped all bowlers in game two, leading Sunnyside with a 155. Unfortunately for the Lady Grizzlies, only one of their four other bowlers scored higher than a 120 in game two.
Selah assured itself the win on Tuesday by tying Sunnyside in the first of two Baker games, 120-120. The Lady Grizzlies won the second Baker game by a 165-160 score. In the Baker match-ups, each member of the five-girl squads alternate taking turns throughout the 10-frame contests.
Sunnyside is scheduled to host another match at Valley Lanes this coming Thursday against visiting Wenatchee.
In JV action yesterday, the Selah girls won 3-1. The Sunnyside junior varsity, which got a team best 220 two-game series from senior Ashley Rojas (86-134), claimed its lone point of the match in the second Baker game, 121-117. The JV Vikings were led by Kylie Baker (130-156).
GAME #1
Selah
Danielle Erickson 121
Kim Foster 121
Emily Luke 139
Heather Preston 100
Alyssa Beemer 116
Total 597
Sunnyside
Marissa Martin 73
Sarasa Partida 115
Ileana Martinez 132
Michele Williams 125
Marisol Canales 84
Total 529
GAME #2
Selah
Danielle Erickson 141
Kim Foster 133
Emily Luke 131
Heather Preston 125
Alyssa Beemer 142
Total 672
Sunnyside
Marissa Martin 117
Sarasa Partida 125
Ileana Martinez 155
Michele Williams 116
Marisol Canales 98
Total 611
BAKER GAMES
Selah 120
Sunnyside 120
Selah 160
Sunnyside 165