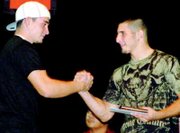 There was a good turnout last night for the Sunnyside High School fall sports awards ceremony, held in the high school auditorium.
It was a season of success for Grizzly sports, as the football team rebounded from consecutive one-win seasons to this past season finishing at 5-5 and qualifying for postseason play.
Other notable marks included the volleyball squad's first ever trip to Regionals.
Leading the way in cross country awards was most valuable runner Brittany Messmore, who recently completed her second consecutive trip to the State 3A meet. Jacob Rogers was selected as the most valuable runner for the boys, and the coaches award went to Barbara Muellauer. Osbaldo Arroyo and Jocelyn Yanez received most improved recognition.
In football, Adrian Cantu and Danny Alvarez were selected as co-MVPs on offense and Alvarez was tabbed by coaches as the defensive MVP.
Andrew Rios was selected as the football team's most inspirational performer, and Jose Sanchez received the Coaches Award. Jose Barajas was recognized as the most improved Grizzly football player.
For the girls' soccer program, Analisa Van Oostrum received most improved honors and Melissa Miller was selected most inspirational. Teresa Ramos earned defensive MVP honors and Mayra Serna offensive MVP recognition. Ramos also received the Coaches Award.
Lady Grizzly volleyball awards went to Melissa Stamschror as MVP and Alexis Ramos for the Heart and Hustle Award. Lani Ramos was tabbed as the most improved player and Claire Schilperoort was named team captain. The Coaches Award went to Jordyne Jaquish.
Girls swim team honors went to Emily Hutchins as the most improved athlete and Kaitlyn Broersma received the Coaches Award.
For the rally squad, Jeanette Alvarez received the Coaches Award and Jamie Zijlstra was selected MVP. Alejandra Bobadilla earned the Spirit Award, and the Hurkie Award went to Melodie Casas.
Other team honors included recognition of football player Gibby Briones for breaking a 40-year-old school record by returning a punt 85 yards for a touchdown.
Academic Awards
Yesterday's awards ceremony also took time to honor athletes who had the highest grade point average for their respective teams.
Individuals recognized for the first time received a patch. Repeat academic award winners received a pin.
Running Start students were not included in this recognition based on grades not being available on regular school grading periods.
Cross Country:
Boys - Kyle Scott (patch)
Girls - Andrea Salmeron (patch)
Volleyball:
9th - Ayla Schmick and Emily Meyer (patch for both)
C - Samantha Santos (patch)
JV - Megan Tyler and Avalon Valencia (pin for both)
Varsity - Melissa Stamschror (pin)
Soccer:
JV - Mayra Guizar (patch)
Varsity - Katie Herndon (pin)
Rally:
Jenna Zamarron (pin)
Swim:
Christine Kim (patch)
Football:
9th - Humberto Mejia (patch)
JV - Jonathan Paxton (patch)
Varsity - Jose Barajas (pin)