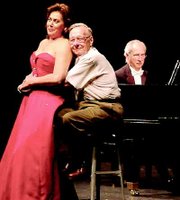 Former longtime Sunnyside City Councilman and Mayor Don Hughes passed away last night (Wednesday).
Olaf Elze, former publisher of the Sunnyside Sun, said, "He was the longest (serving) member, I think, of the council and he was Mayor of Sunnyside for 15 or 18 years. I don't know how many years he was on the council, but I would say it was something like 25 years."
Elze said Hughes was "a person who was very much interested in what other people thought. He would take that information and try to work it into the school system, if it dealt with that, or the Sunnyside City Council, if it dealt with that...he brought that forth in his various actions."
Sunnyside native Kim Taylor-Morris recalls Hughes' nickname of "music man." Explains Taylor-Morris, "He and his wife, June, were very involved in getting music in the community."
She added that Hughes was instrumental in bringing cultural opportunities to the area in the form of the Lower Valley Community Concert Series and was also very active in the Musical Comedy Company.
"He had an effect on a lot of things in the community," said Taylor-Morris.
Elze said Hughes worked for many years in the school district, as a teacher, principal, band director, as well as a Federal Director, working to get more programs into Sunnyside through his position in the school district.