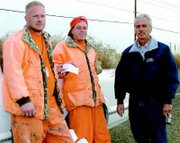 While cleaning along the stretch of Sunnyside/Mabton Highway's overpass Wednesday, Sunnyside jail trustee Tyler Walters made an unusual discovery.
Walters and fellow trustee Don Ebe were cleaning up litter along Sunnyside/Mabton Highway under the supervision of Sunnyside Code Enforcement Officer Jim Rivard.
The duo had found several winning lottery tickets, change and a few $1 and $5 bills, according to Rivard.
"So, when they were looking at the check, I thought it was another lottery ticket until Tyler brought it to me," he said.
Walters' discovery was a check for more than $10,000 issued to a local resident by the National Grape Co-operative, also known as Welch's.
"I am truly impressed at the honesty these two have shown...it shows true character," said Sunnyside Building Official Mike Storms, Rivard's supervisor.
Both Storms and Rivard said it is unusual for trustees to turn over a check or anything of monetary value to them. "Most of our trustees would have pocketed this check to cash it later."
Storms added, "It is refreshing to us because we have had trustees who have stolen when they have been on detail, and then they lied about it later. These two show true honesty."
Rivard added that he was dually impressed because, as a former police officer, he knows the two trustees saved the Sunnyside Police Department and the owner of the check time and money.
"They are truly to be commended for this," both Rivard and Storms stated.