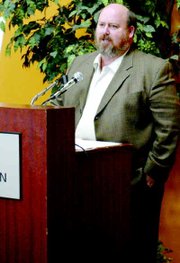 YAKIMA - Yakima Valley Community Foundation awarded $325,000 in grants to 16 Yakima County nonprofit organizations yesterday in Yakima. Grant amounts ranged from $2,500 to $40,000.
This is the third year the foundation has directed its philanthropic dollars to efforts that have the greatest potential to improve the quality of life for Yakima County residents. Targeted areas of support include health, education, social and human services, community development and the arts.
"As the foundation completes its third year of operation, we are delighted to be able to support these organizations that contribute so much to improving the quality of life for residents of the Yakima Valley," said John Colgan, foundation president. "I wish we had the resources to fund all the worthy programs that applied."
He said that day will come, but added the foundation just isn't there yet.
Three Lower Valley nonprofits received grants from the foundation.
Sunnyside's Nuestra Casa received a grant in the amount of $18,000. The money is to help educate Lower Yakima Valley immigrants, particularly Spanish-speaking women, about untreated mental health matters and to assist in making mental health services more accessible.
Sister Mary Rita Rohde, director of Nuestra Casa, said the first part of the project involves gathering together all of the agencies in the Lower Valley that know or need to know, about mental health issues.
"We want to get Sunnyside Community Hospital, Sunnyside police, Lower Valley Crisis and other groups to talk about what people are doing and what needs to be done," she said.
Then, she said, a mental health plan will be set up to see how women with mental health matters can be treated.
The city of Grandview received $15,000 from the foundation to replace the limited and outdated playground equipment at Westside Park, the most popular family-gathering spot in the city.
Grandview Mayor Norm Childress thanked the foundation for the grant. He said most of Grandview's revenues go towards providing basic services to the city. With the recent budget crunch the city is feeling, Childress said the city doesn't have much money to spend on parks.
"It's our parks that really improve the quality of life for our citizens," he said.
The mayor talked about taking steps forward instead of backwards.
"We hear about a lot of backward steps," he said, pointing out that some cities have closed their pools, and Wapato closed its community center. "If we can add little projects like this, that's one step forward."
Childress said the city has received donations from service groups and private citizens to purchase playground equipment. A contractor has even donated the labor it will take to put in the equipment.
"This will provide an opportunity to let kids do what kids do....play," Childress added.
Enterprise for Progress in the Community (EPIC) received a $30,000 grant from the foundation to strengthen the efforts of its new nonprofit distribution center in Yakima. Through a partnership with World Vision, EPIC distributes a wide range of organizational supplies at free or reduced cost for regional nonprofits.
Kathleen McDonald, president and CEO of EPIC, said the money received from Yakima Valley Community Foundation will be used to purchase a forklift and to install shelving that was donated to EPIC.
"We'll use the forklift to lift the donated items off the floor to the shelves," she said.
McDonald said EPIC distributes goods to 375 nonprofit organizations, churches and schools in Central Washington.