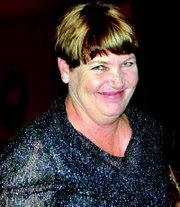 GRANDVIEW - She came in with a bang and hasn't stopped supporting Grandview since.
That's what one nominator wrote of Grandview's 2007 Person of the Year, Grandview Chamber of Commerce Executive Director Beth Bourgeois, who maintained her composure as last night's community awards banquet came to an end with the announcement.
The award is given to the person who receives the most votes from community members. Nominators haled Bourgeois as someone who gives of her time and efforts to better the Grandview community, further the Chamber, and bring new ideas and fundraisers to the table.
Aptly, Bourgeois's plaque contained a quote by Arthur C. Clarke: "The only way of finding the limits of the possible is by going beyond them into the impossible."
Awards selected by the Chamber President
The night wasn't without surprises, courtesy of Chamber President Gaylene Tucker. Chiefly, that of a newly introduced award called "Time and Dedication."
Tucker began the festivities by telling a tale about the importance of offering up one's time. After all, like the quote that Tucker echoed at the end of her story, "Life is not measured by the breaths we take, but by the moments that take our breath away."
Tucker presented the new award to Lynn Boast, whose dedication to the community and the time he's willing to commit is evidenced in his willingness to juggle his schedule to benefit others, like taking the time to drive to the University of Washington to pick up the "helmet car" when his crops are in harvest, or multi-tasking by driving his semi-truck to downtown businesses while using it at the same time to deliver apple bins to the community haunted house.
Tucker said when it came to deciding the President's Choice award, she could only narrow it down to two recipients, as opposed to one: LeMaster & Daniels and Wal-Mart Distribution Center #7021 for contributing volunteer hours and monetary donations.
Community awards
The Grandview community selected Consumers Choice Insurance, owned by Tucker and best friend/business partner Becky Ruppert, as the Outstanding Business. Comments from nominators included, "Outstanding business that leads by example" and "keeps our Chamber alive and going."
The Vineyard, owned by Mike and Carolyn Bren, received the Economic Development award for "bringing the corner of Second Street and Division back to life."
For her efforts in reviving the Great Grandview Grape Stomp and "making it fun for all," Elizabeth Alba took home the Outstanding Volunteer award.
Ruppert was surprised to learn that her quiet work behind the scenes earned her the Past Service Award. Ruppert was haled as "very quiet, but always there to help no matter what we ask of her."
The Orrin Dybdahl Youth Award was presented to Gretchen Chronis. Said one nominator, "She is very outgoing and dedicates a tremendous amount of time (to) the youth in our community."
Civic service awards
The Outstanding Firefighter and Top Responder awards, as well as the Outstanding Police Officer award, are determined internally at the police and fire departments.
Grandview Officer Travis Shephard was deemed by his "band of brothers" as the outstanding police officer. Sergeant David Palacios, who presented the award to Shephard, cited Shephard's work in getting a Washington State Patrol SWAT rig donated to Grandview as one reason of many as to why he was chosen. He was also haled as being "proactive, with a true passion for arresting criminals...(he's a) one-man wrecking crew (against crime)."
The fire department selected its award winners during a banquet earlier this year. Fire Chief Pat Mason named Eric Stanton as the Top Responder. Being a volunteer firefighter, he said, requires that one "get up and go whenever it's needed, with no advanced warning." Stanton did just that, responding to 255 of 537 calls for service.
Joel Byam, Outstanding Firefighter award recipient, who now works as a lieutenant for the Prosser Fire Department, was described by Mason as "someone who continue to rise up through the ranks of fire service."
Mayor's Beautification Award
Following a presentation of community photos taken throughout the year and set to the back drop of music, Mayor Norm Childress presented Yakima Valley Community College Grandview Campus Dean Bryce Humpherys with the Mayor's Beautification award, for the work done to transform the old Safeway building into the college's Workforce Center.
School District Teachers and Students of the Year
Each year, each school in Grandview selects its top teacher and top student.
McClure Elementary School Teacher of the Year Joyce Clark was haled as someone who "sees the good in any situation and can move forward to make the most of difficult situations when confronted with obstacles.
McClure Elementary School Student of the Year Kylie Serl was described as a fifth grader who gives of her time and talents and is also "kind, responsible and compassionate."
Arthur H. Smith Elementary School Teacher of the Year Sheila Arriaga was described as "kind and nurturing in her work with children."
Smith School Student of the Year Anthony Ledesma was lauded for being responsible, dependable, a high achiever, team player and someone who is polite and courteous.
Harriet Thompson School Teacher of the Year Helen Andrews was described as someone who is very well known for her "quick step and follow through...Helen's enthusiasm, caring attitude and love of learning are contagious."
Harriet Thompson School Student of the Year Marissa Garza was haled for her leadership qualities, and as someone who possesses a good work ethic.
Grandview Middle School Teacher of the Year Jennifer Tucker was described as someone who is a "great team player and always willing to help out when needed."
GMS Student of the Year Diana Cervantes was described as an "eager learner and she volunteers for any extra projects that come along."
Compass High School Teacher of the Year John Nelson was described as "a great teacher who knows his stuff and how to make it stick."
Compass's Student of the Year, Nancy Sanchez, was described as a student who's involved enthusiastically at school, a student who strives to do the right thing, and a person whose personality sets a good tone for the learning environment.
Michelle Swearingen was selected as Grandview High School's Teacher of the Year and was described as a teacher who's had a "positive impact on thousands of lives over the years."
Grandview Junior Miss Katie Veloz, who was also at the banquet to help pass out awards, was GHS's Student of the Year, selected for the honor because she not only has outstanding attributes, but helps foster them in others.