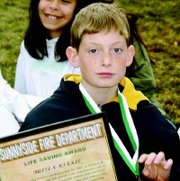 An aneurysm strikes quickly, knocking a grown man helplessly to the floor.
It's a scene right out of a medical television show, only in this case the first responder hero doesn't drive an ambulance.
In fact, the only thing he drives are maybe Tonka toys or Matchbox cars.
The hero is 10-year-old Dalton Hinkle of Sunnyside, who on Sept. 25 alertly called 9-1-1 when an aneurysm struck down his father, Dale.
Hinkle attends Washington Elementary School and yesterday, Thursday, staff and students held a special ceremony to honor his life-saving response.
Emergency personnel from the Sunnyside Fire Department were also on hand, including Captain Bill Harris who was one of the first to respond to the tyke's call for help.
"We witnessed something very heroic," Harris told the school assembly. The captain noted that Hinkle's call saved his father's life, as he needed to be rushed to a hospital emergency room immediately.
The Sunnyside Fire Department honored Hinkle for his "outstanding heroism" by presenting him a life saving award certificate and medal.
Harris told the assembled students they, too, are only a 9-1-1 call away from being a hero in tennis shoes, "My message to you is don't be afraid to call."