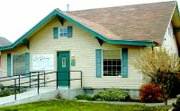 GRANDVIEW - Does Life Options in Grandview need a bigger building with more space? Or does it just need a satellite office in Sunnyside?
Those are questions Life Options Executive Director Jan McDonald is currently prayerfully pondering.
"Most of this is based on prayer and where God leads us," said McDonald.
She added the Life Options is currently paying $250 more per month on the mortgage of the small, two-story house in order to pay it off sooner than expected.
At the Life Options fall banquet held last week, McDonald announced that the organization was mulling a bigger facility.
The small building houses three offices, a waiting room, an ultrasound room, two consultant rooms, an area for gently used clothing items and a store upstairs.
Life Options provides free pregnancy tests, ultrasounds, parenting classes, relationship education and an abstinence awareness program.
McDonald would now like community support via prayer as to whether or not Life Options should expand. If a generous donor decided to pay off the mortgage, she said, "That'd be beyond my wildest dreams. But that would have to be something God laid on their hearts."
In terms of her work with the ministry, she said, "I absolutely love the results of what we do. I love the fact that we are a change agent and I love what God does. We really are making inroads into education about sexuality, relations, things the media doesn't generally give the truth about."
Following the fall banquet, Life Options received about $49,500 in donations, none of which is earmarked to pay off the mortgage.
To tour the facility, call McDonald at 882-1899.