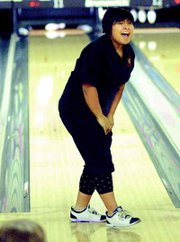 Sophomore Sarasa Partida definitely had it going on yesterday for the home team, but it was visiting Wenatchee's superior team depth that stole the show.
The Panthers cruised into Sunnyside Thursday afternoon and made off with a 3-1 victory over the Lady Grizzly bowling team. Wenatchee won the match despite a stellar 336 two-game series from Partida. None of the other nine varsity bowlers at Valley Lanes yesterday finished closer than 45 pins to Partida.
Wenatchee's five bowlers couldn't do any better than a 146 in the opening game, yet the Panthers prevailed, 662-623. Partida was tops for Sunnyside in the first contest, tying Wenatchee's Brooke Tate for game high honors with an identical 146.
The Panthers' Paris Reed rolled a team high 165 in game two to lead her club to a 695-634 victory. Partida exploded for a 190, but with no other Lady Grizzly scoring higher than a 118, Sunnyside sustained the 61-pin defeat.
Game three, a Baker contest where each member of the five-girl squads alternate taking turns throughout the 10 frames, also went Wenatchee's way, 152-144. The Lady Grizzlies averted the sweep by claiming the second Baker game, 132-109.
In JV action yesterday, Wenatchee blanked the junior varsity Lady Grizzlies, 4-0. Katie Bailey and Carly Ochampaugh led the JV Panthers with two-game series of 295 and 262, respectively. In the losing cause, Sunnyside's Marisela Prado topped all JV bowlers with a two-game series of 298 (160-138).
The SHS bowling team is scheduled to compete against the West Valley Rams next Tuesday at Yakima's Nob Hill Lanes.
WENATCHEE 3 - SUNNYSIDE 1
Game #1
Wenatchee
Brooke Tate 146
Amanda Cantor 129
Kayela Rushing 140
Paris Reed 126
Chelsie Cooper 121
Total 662
Sunnyside
Marissa Martin 121
Sarasa Partida 146
Michele Williams 113
Marisol Canales 135
Ashley Rojas 108
Total 623
Game #2
Wenatchee
Brooke Tate 139
Amanda Cantor 117
Kayela Rushing 141
Paris Reed 165
Chelsie Cooper 133
Total 695
Sunnyside
Marissa Martin 113
Sarasa Partida 190
Michele Williams 118
Marisol Canales 118
Ashley Rojas 95
Total 634
Baker Games
Wenatchee 152
Sunnyside 144
Wenatchee 109
Sunnyside 132