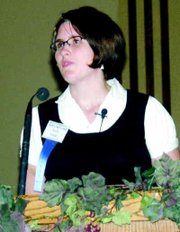 GRANDVIEW - The Washington Grape Society hosted its annual meeting this past Thursday and Friday, featuring keynote speaker Kelly Lentz of Mendocino Wine Company.
Lentz spoke to grape growers about her company's decision to "go green," giving examples of how the Ukiah, Calif. based winery became a "carbon neutral" facility.
She said her personal influencer was her grandfather, who had been a logger in Eureka, Calif. "He used to tell me stories about logging the area and how it was so full of trees...as I grew older, he told me he wished they (loggers) had done it better," she said of her grandfather's regrets regarding protecting the environment.
Lentz took her grandfather's regrets to heart and decided to help her business become more environmentally friendly, especially after having obtained information on scientists' beliefs regarding global warming.
She said that scientists project carbon levels will increase by 400 percent by the year 2100, and because agriculture is temperature sensitive, the Mendocino Wine Company felt a need to decrease that probability.
"We (people) are changing weather patterns. The growing season temperatures have increased with later fall frosts and a decline in the number of days that are below freezing," Lentz stated.
She said that although the current conditions are preferable for those growing grapes, the continued climate variations and changes are predicted to limit agriculture acreage and optimal climate regions for growing crops.
To help prevent the factors predicted, Lentz said growers can offset pollution and carbon footprints.
"In California, we have an agency called the California Climate Action Registry. Nationally, the EPA (Environmental Protection Agency) has a program called 'EPA Climate Leaders' to help measure carbon footprints," Lentz said.
She stated that her company pulled out its accounting records in the beginning of its efforts to measure the carbon footprint, taking into account the fuel, natural gas and energy utilized by the winery.
In doing so, the company discovered its largest contribution to use of carbon stemmed from the use of electricity.
"We entered into a partnership with the electric company to refit our facility with energy efficient equipment, such as new refrigeration and lighting, which accounted for 9 percent of our carbon footprint," Lentz explained.
She said the company also switched to fluorescent lightbulbs, accounting for 5 percent of the carbon footprint, changed to biodiesel fuel for operating the equipment and purchased hybrid vehicles. The winery also began to farm the grapes organically, discovering savings in doing so.
Lentz also stated there are other steps the company has taken to help become "carbon neutral," including buying its products locally. She said it was all a matter of finding the various options available that could help a company become more environmentally friendly.
"We need to take responsibility for what we are doing now," Lentz concluded.