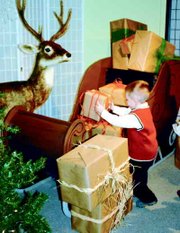 It may have been held at the Mini Mall, but there was nothing mini about Sunnyside Community Hospital's Festival of Trees this past Friday. Hundreds filled the storefront on Sunnyside's downtown Sixth Street for food, wine, music and, of course, Christmas trees.
There were at least two dozen trees on hand in various decorations, ranging from delicate snowflakes to some with a tropical flair.
The good time was for a good cause, as proceeds from the festival and a raffle sale are designated for the hospital's emergency room expansion.