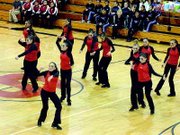 Dance teams and their supporters from Richland, Quincy and Pasco trekked to the Sunnyside High School gym this past Saturday to participate in a regional dance competition hosted by the Grizzliettes and organized by the captain of the team herself, Alyssa Longoria.
Longoria organized the event for her senior project.
On the day of the event, she said she was excited, "But I felt like we left one major detail out and we weren't going to know it until (the last minute)."
That wasn't the case, as Longoria's dance competition went off without a hitch.
Performers entertained the crowd with their hip-hop, pom-pom, dance and drill routines, with a few fun breaks in between, like the "crazy dance competition."
During this portion three dancers from each team took to the floor with the daunting task of dancing like a loon to crazy tunes. Sunnyside dancer Jazmine Salmeron tied with a Richland dancer for first place.
The event was set up to allow the Washington State Judges Association reps time to judge each dance team while fun music played in the background. During that time, it became a usual sight to see the girls jump up and dance in between the breaks.
Longoria said that's not unusual, "If a school will allow it. Some schools don't."
Pasco took top honors for the day, placing first in hip-hop and pom competition. Sunnyside placed first in the prop production performance, and Quincy placed first in the dance category.
SHS Grizzliettes Advisor Melodie Griffin said it was the first dance competition of the season, and the Grizzliettes will use the judges' critiques and commentary to better their routine in time for a Hanford hosted dance competition in December.
She said that judges look at full body movement, overall effect, execution of moves and projection of showmanship.
Longoria said the Grizzliettes have practiced five days a week after school for a month and a half to ready themselves for competition.
"We had a lot of support," Griffin said of Saturday's competition, a sentiment echoed by Longoria, who said she was extremely appreciative of the support shown by the students and families that attended.
Longoria also said she appreciated the help of Griffin, the support of her mother, and the generous sponsors who donated about $400 worth of goods to make her senior project such a success.