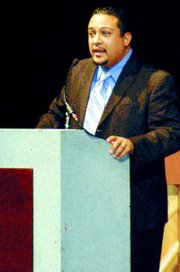 "Give thanks for the privilege of opportunity," keynote speaker Miguel Puente noted during a Sunnyside community Thanksgiving service held last night, Sunday. "To whom much is given, much is expected."
A 1994 Sunnyside High grad, Puente is the director of student services at Heritage University and serves on the Sunnyside School Board.
Last night he told the hundreds assembled to be thankful and not focus on negatives. "Give thanks for all things. Give thanks all the time," Puente said.
He questioned reports of a slumping downtown Sunnyside and a disconnect between citizens and elected officials. "Is that really true?" he asked.
While there are challenges for everyone, Puente said to look at them as opportunities. To give thanks. By focusing on the negative, he observed, "We make them much worse than they are."
In short, he observed that giving thanks is not just an action, it's a deliberate, on-purpose attitude.
"When I'm feeling aggravated I have a difficult time feeling thankful," he smiled.
Puente pointed to the community service-which featured music and scriptures in both Spanish and English-as a venue to "balance our differences and celebrate our similarities."
Puente went on to note that dictionary definitions of the word "thanksgiving" reference God.
"It's interesting how God is mentioned," he said. "Everything we have is a gift from God, even the ability to share with others."
That spirit of thanksgiving, which included an opportunity to donate to local food banks, extended to comments from the audience.
One person said they are thankful for "new friends", another "for family."
Other audience members expressed gratitude for "answered prayer" and "family and friends who love me."
One youngster in the audience helped the grown-ups gain a perspective on the season by being thankful for, well, time itself. "I'm thankful my Dad is getting a new job and will be able to spend more time with me."