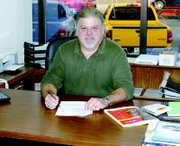 GRANDVIEW - For years and years Yakima Valley residents have heard Frank Allec on the radio. Now they have a chance of being sold a car by him.
Allec said good-bye to radio recently and started work at Mid-Valley Dodge as the store's new fleet manager.
"It's a very challenging and interesting opportunity we have here," Allec said. "I'll be going out into the field rather than sitting at a desk."
As the fleet manager, Allec will be responsible for all businesses that might be looking at more than one vehicle, such as agricultural companies, schools and municipalities.
"I'll be out there talking to them to give them the personal treatment," he said. "I'll try to find out what their needs are and how they can be helped."
Allec made the career change because of what he called the timing of everything. He said the direction of where radio was going was losing the localism he liked so much.
"When you lose that it becomes a situation where you're trapped inside of an office and not out in the community," he explained. "I decided to get back out there."
He said that is exactly what his bosses at Mid-Valley Dodge want him to do.
Mid-Valley Dodge Vice President Brandon Christensen said bringing Allec on board is a good fit to the aims of Mid-Valley Dodge.
"We were looking for someone with a broad experience," Christensen said. "We have a lot of confidence in Frank."
He said Mid-Valley Dodge is a hometown dealership and bringing in Allec was like hitting a home run.
"Frank has been in the community for 30 years, selling radio ads and being on the radio," he added. "Plus, he's a loyal Dodge owner."
Both men say Dodge has a lot of new products coming out and is introducing a line of heavy-duty trucks.
"We are actively working with Chrysler and Dodge to get people here those products," Christensen said.
Allec added there is already a lot of interest from the agricultural community.
"I enjoy helping people and watching their businesses grow," Allec said. "We all need dependable vehicles.
I think this is a new challenge," he added. "You get out of the comfort zone. If you don't have these new challenges you might as well retire. I wasn't ready for that."