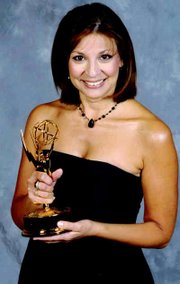 Sunnyside High School graduate MaryEllen Resendez is the recipient of a television Emmy for her journalistic work during Arizona's monsoon in 2006.
Resendez, the daughter of Ignacio and Mary Resendez of Sunnyside, is a reporter/anchor for KNXV ABC15 in Phoenix, Ariz. She earned a BA in communications from Central Washington University.
Resendez began her career in Yakima at KNDO and has since covered stories for stations in California, Atlanta, Georgia and Phoenix.
Her Emmy win is for a story in which she crawled inside a five foot hole where a tree's roots once resided to demonstrate the force of the winds and the enormity of the damage it left behind.
Says ABC15's News Director Joe Hengemuehler, "When I watched MaryEllen tell this story live on the air, I just knew it would be a story that would hold up as an Emmy nomination because, in its essence, it was an excellent example of simple storytelling. Nothing fancy, just stepping into a hole in the ground to demonstrate to viewers the power of the storm."
Resendez also earned an Emmy nomination for her breaking news coverage of the arrest of Phoenix's serial baseline killer.
In June, she received two AP awards. One was for the storm coverage that earned her an Emmy nod, the other for spot news coverage of the evacuation of a freeway after a truck carrying explosives caught fire. Resendez and her photographer were within the explosion zone and the only crew to have live footage of the bomb squad carefully working to remove the truck.
Resendez lives in Phoenix with her husband, Craig Schwisow, and two sons.