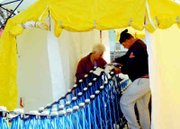 Workers are struck down by a chemical spill. Some are still alert and able to move, others are knocked out.
All need medical attention, but first need to be rid of the poisonous chemicals on their clothing and bodies before entering the hospital.
Such a scenario was envisioned yesterday during a four-hour drill held by about a dozen employees at Sunnyside Community Hospital.
Following two hours of classroom work, the crew practiced putting on the equipment they would need to wear in response to situations such as a chemical spill.
A centerpiece of yesterday's drill was setting up a decontamination tent outside the hospital.
Ed Smolak is the hospital's admissions manager, and he says it's important that contaminants are removed before patients enter the hospital. "We can use this to treat mustard gas, chemicals, gas," Smolak said in listing a few examples of how the tent can be used.
Working side by side, hospital housekeepers, administrators and counselors pulled the tent and sprung it into shape.
The employees, who volunteered for the decon crew, first erected showers inside the tent for patients who are able to walk in on their own.
The next job was erecting an assembly-line sort of device with wheels on the top so patients unable to move on their own can be put on a bed and rolled into the tent. In a real-life emergency, Smolak said the first thing would be to make sure patients have their clothing removed because of chemical poison.
Yesterday's cold temperatures were too chilly to actually spray anyone with water during the drill. Smolak said in a real-life emergency the tent has a generator to pump in heat so that patients can be warmed after they are washed down. Blankets are also provided to warm and comfort patients after they have gone through the decontamination process.
Smolak said the bright yellow tent hasn't seen an actual emergency. But it, and the crew, will be ready if or when needed because of drills like yesterday's exercise.