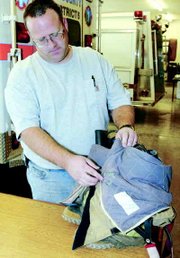 MABTON - Christmas came early for the Mabton Fire Department last week. The department learned it will receive $31,194 from the Assistance to Firefighters Grant program.
Administered through the Department of Homeland Security, in cooperation with the U.S. Fire Administration, the grants will help local fire departments protect communitites, enhance fire prevention, and improve firefighter health and safety.
With Washington State Congressman Doc Hastings' support, Congress provided over $547 million for the Assistance to Firefighters Grant program this year.
"This grant will help the Mabton Fire Department purchase equipment to better serve the community," Hastings said in a press release.
This help couldn't have come at a better time for Mabton Fire Chief Luke Cussins.
"It's a blessing really," Cussins said of the timing. "We have a $200,000 hole in our budget for the city of Mabton. There is no way we could of come up with the money for the gear."
Cussins said he will spend the money on buying new pagers and turnouts for the 16-man volunteer fire department. A turnout is the the protective gear a firefighter wears when entering a burning building.
Cussins said the federal government is mandating all fire departments in the U.S. switch to pagers that are capable of receiving a narrow-band signal, by the year 2013. Yakima County Fire District No. 5 is switching its pagers at the beginning of 2008 and without the new pagers, the Mabton Fire Department wouldn't be able to communicate with the county fire district. Each pager comes with a $500 price tag.
Cussins said the department's turnouts badly need to be replaced. One set up gear is 16-years-old and there are others that are at least 10-years-old. He said the maunfacturer's recommendation is to replace turnouts every six to eight years.
Each new turnout will cost the department $1,500.
Cussins said he is hoping to get bids in on the new pagers sometime this month but isn't sure he'll be able to purchase the new turnouts until Janurary or February.
The city of Mabton must purchase the equipment and then submit the bill to the Assistance to Firefighters Grant program. The city will then be reimbursed 95 percent of the costs up to $31,194.